So you've decided it's time to join the gym. Well done for making the commitment – now comes the fun bit. Or the hard bit. Or the scary bit?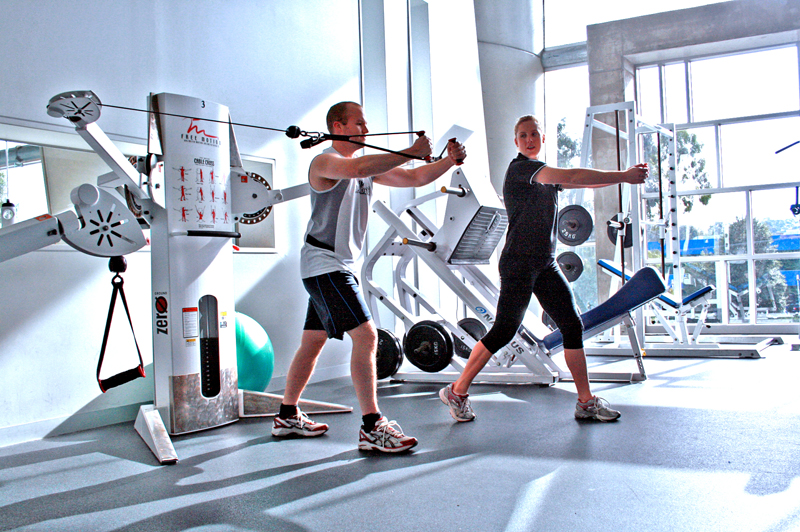 If you're not used to working out in the gym, and you're not feeling all that body confident at the moment, don't despair. All it takes is a few simple tips and trips to help you overcome your initial gym anxiety and you'll be swinging those kettlebells and mastering that rowing machine in no time.
Rather than turning up unprepared, it's a good idea to spend a bit of time thinking about what's going to happen on your first visit and have all the basics sorted out. Start with logistics: How will you get there – walk, cycle, by bus or car? Do you have everything you need to get changed at the gym? What about suitable and comfortable gym wear, including proper trainers and a sports bra? Don't forget to bring a bottle of water. Leave plenty of time before, during and after your session so you don't feel rushed in any way.
If you're worried about wandering into a strange space filled with grunty weightlifters and judgy gym bunnies, why not set up an appointment with a gym instructor? Most gyms will insist on giving you an induction before you are allowed to use any of the equipment anyway, so you may as well use this to get familiar with the machines and get a good look around the workout space you'll be using. Better still, most gyms will be happy to write you a basic programme, so you have a basic routine to get you started.
Try and go when the gym is not packed to bursting – peak hours are typically early mornings before work, straight after work, and around dinnertime. It's not much fun waiting around for machines to become available, and there will be fewer show-offs or prying eyes to worry about when the gym is not too busy. An empty gym can be a relaxing space, allowing you to fully indulge in your activity without distraction and focus on your fitness goals.
You may think everyone is looking at you, but you're wrong: they're all focusing on themselves, which is what you should be doing too. Who cares if you're red-faced and sweaty or look less than lithe on a treadmill? Avoid the mirrors if they're bothering you, put your earphones in and zone out to your personal choice of workout music in a world where you are all that matters.
If you find it hard to feel comfortable in the gym on your own, how about taking a class? Suddenly, you're no longer alone and there's an instructor telling you what to do. Find a spot in the middle of the room from where you can see the instructor clearly and let them know that you're new. Most gyms have a wide choice of classes on offer. From Pilates to Pump, there's bound to be a group workout that you'll enjoy. Why not bring a friend for extra company?
Article provided by Mike James, an independent content writer working together with Sussex Downs based Hotel, Country Club & Spa Wickwoods, who were consulted over the information in this post.