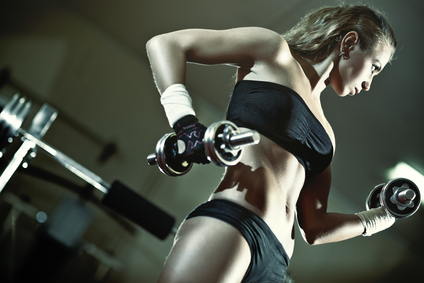 Nutrition
I think we need to be really clear about what your goal should be when it comes changing your body shape and becoming healthy. The goal should never be about 'weight loss' it should be about losing fat or losing inches, and nutrition has an enormous role to play; if you were to think about your body as a car, you wouldn't expect it to run without any fuel – so how could you expect your body to exercise without fuelling it.
The key to losing fat is to feed your body with the right food to build lean muscle; educate yourself about the impact that refined sugar has on the body, learn about the difference between saturated and unsaturated fats and stop cutting all carbs immediately, on top of all this up your intake of lean protein!
You may find the more you eat, the more you lose; 5-6 small meals throughout the day will not only stop you reaching for the quick sugar fix but will also keep your metabolism working at its peak.

Exercise
Find an effective workout plan for you; too many of focus solely on long periods of cardio, that aren't BAD for you by any stretch of the imagine, but they aren't the most effective use of your time in the gym. Long distance running is great for increasing overall fitness and stamina, but HIIT training is where you will really see results. High Intensity Interval Training is a way of exercising that requires you to apply 100% effort in intense bursts, followed by a reduced effort, yet still active recovery period. The after effect of HIIT training is known as EPOC – Excess Post Exercise Oxygen Consumption, resulting in the body working extra hard for up to 48 hours after your work out to rebuild its essential stores of oxygen.
Weight training alone can help you to burn up to 40% more fat whilst burning high amounts of calories; this is because weight training will break the muscle fibres, and to repair them will require the body to use its energy. Doing strength work outs that only use 3 large muscles can raise your metabolism for up to 40 hours post workout.

Supplements
The word 'supplement' seems to strike fear into the hearts of many, but when researched properly and taken at key times they can be a secret weapon.
Protein is one of the most dominant and widely used nutritional supplement within the fitness industry. Hannah Richards from Cardiff Sports Nutrition explains,
"It is important to find the right products to work synonymously with protein to reach your specific goal, whether you are trying to lose fat, gain bulk or maintain current weight, protein powder plays an integral part in preserving or building lean muscle mass"
As well as protein there are other supplements that could become vital to your workout goals; Multivitamins, Glutamine, Creatine and Thermogenics are all popular choices, but be sure to read the ingredients and take all allergies and intolerances into consideration.
Pre workout
To execute your best workout each time you hit the gym, you should form some great pre-workout habits. Get some caffeine into your system with a coffee and eat at least 60 minutes prior to working out. Pre-work out meals come down to personal preference, some go with a high protein (protein shake), others go for something containing both natural sugars & good fats (apple slices with peanut butter) to supply them with a quick energy burst and some long term endurance, high carb (oatmeal) is also a popular choice. Now is a great time to take pre-work supplements; do give you some extra motivation, you could look at images of others progress pictures or try some visualization.  Finally – get some music to get you pumped!
Post workout
After your workout, you have between 30-35 mins to optimize all of your efforts in the gym. After using up your glucose and glycogen stores whilst exercising, cortisol is released into the body – this eats in protein stores and coverts it to glucose. By drinking a protein shake with a simple sugar added, such as honey, prevents this process whilst also causing insulin to be released. Without getting into biochemistry – insulin acts a gateway to open the muscle up so that glucose and protein can enter – building lean muscle. Eating another high protein meal an hour after working out also aids this process. Find out how much simple sugar you should consume post work by using this calculator.
Stretching after a workout is a great way to cool down, preventing the onset of DOMS and helping to create long, lean muscles.