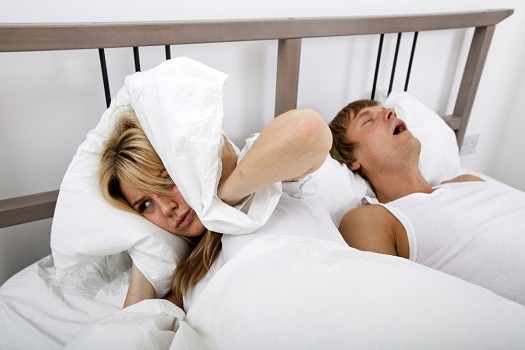 Snoring is terrible for your relationship and can even be a sign of dangerous health conditions that can steal away the rest of your life. There is nothing about snoring that is funny when it is happening on a regular basis over a long period of time. Snoring indicates a disruption of airflow that might be caused by something as simple as swollen sinuses due to a cold or extreme exhaustion or intoxication, or could be caused by sleep apnea, which is a condition in which you stop breathing for a short period of time during sleep. The swelling of the tongue so that it blocks the breathing pathways or blockages of the airway are also problematic possibilities.
It is crucial that the brain receives sufficient oxygen at all times, and reduced oxygen intake or difficult in complete exhalation reduce the amount of oxygen that is available to the brain. Theravent and other snoring treatments can be used to combat this common problem when it is happening more than a few times per week. Though occasional snoring isn't really anything to worry about and is quite normal, the stress of chronic snoring can significantly wear on the stability of a relationship. Both partners will be short on sleep and will likely become annoyed and short tempered due to this frequent disruption. The body requires a full night of regular and restful sleep.
A sleep study can indicate whether your chronic snoring has a medically worrisome cause, or whether it is merely an annoyance. When it is simply an annoyance it is likely your partner will be looking at every over the counter remedy that exists from simple to use Theravent strips, to pressure point rings, and herbal remedies that can make life a little more pleasant for both of you. The other option of course, is to get move into a bedroom of your own so your significant other can rest peacefully. The same treatments don't always work for everyone so there may be the need for some experimentation to find what works on your problem.
No matter what remedies are chosen, it is important to always keep in mind that snoring is a symptom and there is always a reason for the snoring that should be addressed. When snoring occurs regularly it is more likely than not that something serious underlies the problem. Be sure to speak with a physician whenever there is any question about your health. Snoring is nothing to take lightly, and is sometimes a life threatening condition.
Realize that anything affecting your breathing and the amount of oxygen that is getting to your brain has the potential to lead to all sorts of terrible degenerative problems. The oxygen in your blood feeds your muscles, without it tissues of your body die. Beyond the internal problems, relationships require a certain level of care as well and some divorces have even been fueled by the stress caused by chronic snoring and a lack of sleep that accompanies it for both partners.