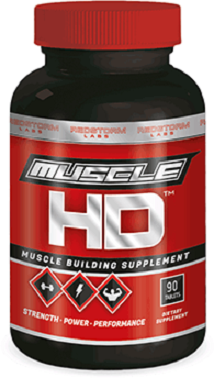 There is a new supplement in the bodybuilding industry called Muscle HD by RedStorm Labs. It includes a blend of creatine, L-Arginine and other ingredients. This Muscle HD review is going to look at all the main ingredients in this supplement and their purpose.
Muscle HD's main ingredient is creatine, which has been tested in various studies to see if it actually works.
What is creatine?
Creatine: "A nitrogenous organic acid that occurs naturally in vertebrates and helps to supply energy to all cells in the body, primarily muscle." – The Journal of Agricultural and Food Chemistry
Creatine studies by the University of Maryland Medical Center have shown creatine improves muscle strength in repetitive bouts of highly intense physical activity, such as during weight training.
According to the National Center for Biotechnology Information, creatine supplementation promotes greater gains in strength, fat free mass and performance during high intensity exercise tasks.
Creatine occurs naturally in your body and in most meats and poultry. On average, 1 pound of red meat contains between 2-4 grams of creatine. Many creatine supplement manufacturers suggest taking up to 9 grams of creatine per day during training period. One simply cannot eat enough meat to reap the full reward of creatine. Most of the creatine gets burned up when cooked anyways. Supplementation is a must.
Best Ways to Take Creatine
The best way to get the most out of creatine is to drink with a non-acidic drink. Do not take with orange juice, pop or an energy drink. Creatine is best to drink with a Gatorade/Powerade, grape juice or apple juice. Water is not necessarily the best liquid to drink with creatine because water moves through your body quickly and pushes creatine out fast. For best results, creatine should be consumed with a meal to help your body absorb the most amount of creatine.
So now that we have looked at what creatine can do, let's take a look at the other ingredients in Muscle HD.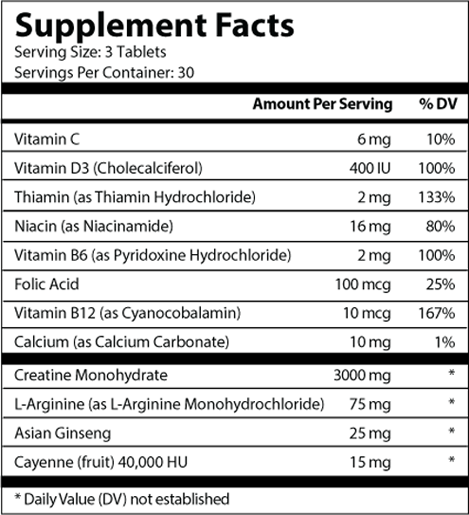 L-Arginine: This is another very popular muscle building ingredient. When you read reviews on other supplements, most often you find this one. It's an amino acid that is involved with the muscle protein synthesis, which is when protein turns to muscle.
Niacin: A substance that supports the metabolization of protein, carbohydrates and fats. This is especially important because this helps your BMI.
Vitamin B-12: Vitamin B12 does a lot for you. From helping your body create red blood cells, to helping create iron. Also encourages an appetite and reduces fatigue.
Calcium: Helps with the development and maintenance of bones, cartilage and teeth.
Thiamin: A substance that can sustain mental alertness and supports cardiovascular health.
Muscle HD Overview
Muscle HD should work as long as you put effort in at the gym. Universities and other medical centers have tested creatine and it is proven to help the performance of those who take it.
The secondary ingredients in Muscle HD are top tier and proven to support people athletically as well. They don't have any pointless ingredients which is a good thing. Also, their blog is solid and filled with good information and they seem to really want to help people. They also have 24/7 call support which a lot of bodybuilding or supplement companies can't even come close to in comparison.
I think Muscle HD is a good choice for someone as long as they put the effort in. Any supplement manufacturer that suggests or implies that working out is not necessary is not backed by any proof and is lying. All in all, the conclusion about Muscle HD is that it uses all scientifically proven ingredients that help you perform in the gym. This is definitely a supplement worth trying if you want extra support to increase strength.