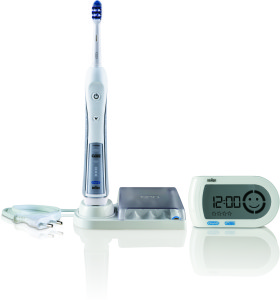 Sharks are lucky; they have teeth that are continually growing and replacing one-another. As a result, sharks don't need to worry about maintain their pearly-white smile because soon enough their teeth will be replaced by a brand new set.
Of course, life is rather harder for us humans, who only receive the benefit of two sets of teeth. Once your adult teeth have come through as a youngster it therefore becomes essential to take care of your teeth. Without proper care your teeth can become rotten and damaged, leading to discomfort, bad breath and an unsightly smile.
If you want to keep your own teeth well into maturity – and even old-age (as many people do) – it's essential to care for them properly. This is especially so for our generation who have more sugary foods and drinks than any generation before us – and hence more chance of dental decay occurring.
So what can we do to protect our teeth into old age?
Electric Toothbrushes
The sad truth of the matter is that most of us don't brush as well – or for as long – as dentists tell us we should. Not only can two minutes feel like an awfully long time to be brushing for twice a day, but standard toothbrushes can also fail to do a proper job of cleaning and buffing our teeth – not to mention removing microscopic particles of food from between the teeth.
Most dentists agree that electric toothbrushes offer a far superior brushing regimen when compared to manual brushing with an old-fashioned toothbrush. Not only does the rapidly-rotating head ensure your teeth are brushed more times in the same session but it is also able to access areas that standard toothbrushes miss.
Lastly even many basic electric toothbrushes come with a "timer" on them, to ensure that you brush for the prescribed length of time. This can be useful for both children and adults alike and ensures that your teeth receive a thorough brush morning and evening.
Recalcification
Whilst our teeth are covered in a tough coating of enamel that helps to protect the more sensitive inner workings of our teeth, over time this enamel covering can become worn or damaged thanks to acids in the mouth. Left unchecked, these teeth are left increasingly defenceless; a process that can lead to decay and the subsequent need for fillings, crowns or even replacement.
The fluoride in most toothpastes helps to counteract the problems of de-calcification. Furthermore for those whose dentist has raised concerns there are specialist recalcifying toothpastes that are designed to rapidly help to repair tooth enamel.
Next time you're at the dentist ask about the calcification level of your teeth and follow the advice given. By following a specified recalcification process at the right time you can often return your teeth to their former glory and reduce or even eliminate the need for fillings.
Mouth Guards
A surprising number of dental patients grind their teeth – yet are totally unaware of the habit. This is because tooth grinding can occur subconsciously as a way to deal with stressful situations or even in one's sleep. If you find that you awaken in the morning with discomfort in your jaw or teeth it may be that you have been grinding your teeth in your sleep.
Tooth grinding is generally best avoided as it can wear down and eventually eliminate the tough enamel that helps to protect your teeth from physical and chemical damage. But how do you avoid grinding your teeth if it is something you do subconsciously while asleep?
The answer, of course, is with a mouth guard. These guards can be purchased from many dentists or pharmacies and modern designs can be surprisingly comfortable. While it may take a few nights to get used to sleeping with a mouth guard in your teeth will thank you over the long term.
Regular Dental Check Ups
Even the most dedicated brusher is likely to suffer from problems sooner or later. Some of us, for example, are just genetically more predisposed to suffer from cavities, or staining, or gum problems. While a good quality oral hygiene routine will certainly help the situation, sooner or later you may require dental assistance to keep your teeth in top condition.
Almost invariably the sooner you get help with your teeth the easier and less extreme the treatment necessary will be. This means that it is essential to visit your dentist for check-ups as and when recommended and to follow the specific advice that your dentist gives you. Don't think that just because you feel no pain that your teeth are problem-free; instead stick to the recommended regimen of check-ups.
Follow these tips and you'll stand the very chance of maintaining your healthy smile long into adulthood and even into retirement. Imagine just what a proud moment that would be.