No matter how badly we'd love for weight loss to be simple, there's no magic pill or special trick to make shedding the pounds an easy process. But there is plenty of research to show that the foods we choose to eat can make a difference by raising metabolism and making us feel fuller to avoid unnecessary weight gain.
Certain foods allow the body to process calories in different ways, making nutritional choices a very important part of the diet and exercise puzzle for those hoping to lose weight.
Below are 5 top foods recommended by nutrition and fitness experts for faster weight loss:
1. Dairy—
Often touted for its value as a post-workout recovery drink because of the high amino acid and protein content, whey protein shakes are a common favorite of those in need of a quick pick-me-up.
Because they're easy to make, whey protein shakes can be a good way to curb the appetite before it reaches the dangerously hungry "eating whatever's available" levels that can sabotage anyone's best intentions.
Calcium has also been shown to have a metabolism-boosting thermic effect on the body, with studies proving that dieters who ingest it every day lose almost twice as much weight as those who don't: so if you're not a fan of milk, consider adding some yogurt to your day.
2. Apples—
Apples are full of fiber, which is dietary aid well known for curbing hunger by creating a feeling of fullness in the stomach without a lot of calories, as well as promoting good digestion.
Apples are also full of pectin, a substance that swells into a gel that binds with water to enhance satiation, with the added bonus of preventing the amount of fat the body can absorb.
Apples have recently been connected to the prevention of metabolic syndrome, which presents with high blood pressure and cholesterol levels, waist thickening and pre-diabetes, making the timeless advice "an apple a day keeps the doctor away" more important to follow than ever.
3. Broccoli—
You've seen broccoli on every super-food list for its dense nutritional content, but broccoli is also a strong contender in the weight loss assistance arena because of the high levels of fiber it contains.
This high fiber content is also found in many other cruciferous vegetables, such as cauliflower, cabbage and Brussels sprouts, which are great sources of vitamin C and phytochemicals.
Broccoli is high in riboflavin, which has been shown in studies to play a role in raising metabolism to increase weight loss, as well as providing an excellent non-dairy source of calcium for those who are lactose-intolerant.
4. Berries—
A bright and delicious addition to any smoothie or bowl of whole grain cereal, berries are loaded with antioxidants, which are famous for their anti-aging cellular protection and metabolism-boosting effects.
Berries are also a surprisingly good source of fiber, with raspberries at the top of the fiber-full list, with blackberries at a close second place.
Low in calories, blueberries, raspberries and blackberries have ketones that can help the body burn more fat and stabilize blood sugar levels.
A recent study also showed that berries helped raise metabolism and suppress appetite in mice by decreasing glucose levels while burning fat. (Source: University of Pennsylvania Health System)
5. Beans—
An April 2013 study revealed that a diet rich in beans was as effective as a low-carbohydrate diet for weight loss, enhancing feelings of satiety with the added bonus of better cholesterol levels. (Source: Loma Linda University)
While not offering quite the protein punch of lean meats and dairy, beans still have enough to help boost muscle mass and metabolism.
Beans also have a high fiber content that helps assist digestion by moving food through the gastrointestinal system faster than animal-based proteins.
Genetics and hormones definitely play a role in the physique we're given, but there are ways to work with what we've got, and smart food choices that can make it easier to get into shape. Consider adding some of the foods above to your daily regimen, and see if they can help you lose weight faster and reach the fitness goals you're hoping to achieve.
Ashley Jenkins is a professional blogger that shares tips and advice on health, training and nutrition. He writes for Fitness 19, a leading fitness facility with affordable month to month memberships.
[toggle title="Featured images"]
Photo Credit: Diana House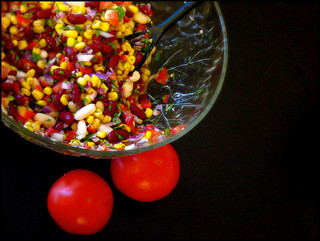 [/toggle]