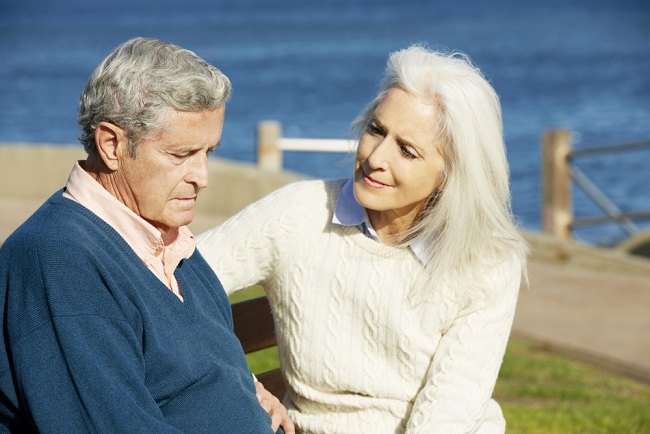 The cost of dementia to the UK economy in 2014 was £26 Billion, that's more than cancer and heart diseases, which sat at £18.3 billion and £15 Billion respectively; let's just digest that for a second. And while we are at it, let's also digest the fact that the number of sufferers is predicted to increase to over 1 million by 2025.
"The average cost of dementia per person in the UK amounts to around £32,000, most of which goes on care." Nicole Mews from Hales Health & Social Care explains, "£5.8 billion each year is spent on privately funded care, but unpaid care by family and friends bearing the costs actually amounts to around £11.6 billion".
The care for those living with dementia came under heavy public scrutiny in 2015 due to the rise of the living wage. The increase, due to take effect from April this year will see workers over the age of 25 paid £7.20 an hour, ultimately creating an even larger funding gap, potentially leading to the collapse of the care homes and even the entire system.
Rather than place their loved ones in care homes in such unstable economic conditions in the sector, families may be pleased to know that the advancements in medical technology extends to improving the functional capabilities of those living with dementia. This will allow them to remain in their own environments, helping to elevate further confusion and anxiety, Alzheimer's UK have previously stated that the familiarity and routine that remaining in their own home offers can help to slow down the progression of the disease.
Assistive technology devices for those living with dementia are designed to aid an induvial in maintaining a level of independence when it comes to day to day living whilst also improving their quality of life and reducing potential risks, giving their family a piece of mind that they have an increased level of safety. The technology is not designed to diminish the need for human contact – isolation was deemed as the single biggest killer of the elderly by the World Health Organisation. Of course, the technology and devices set out below will ultimately depend on the induvial and the stage of the illness, but may work to offer some comfort to those families who are effected by dementia.
Aids for Everyday Living
This type of technology is deemed as 'passive' because it does not require the induvial to take any action. They work to ensure that a person suffering from dementia is still able to feel confident in their ability to carry out normal daily tasks. Appliances such as automated dishwashers, ovens and washing machines and even talking microwaves are available. There are also devices available that will turn off cookers if they have been on for a certain length of time, or reach a certain temperature.
To minimise the risk of burns from hot water, thermostatic valves can be fitted to limit the temperature of water, or alarms are available that sound when water reaches above the safe temperature range.
Sink plugs with pressure sensors that release water if the basin fills to a certain level means that the induvial is able to carry out tasks such as washing up without over filling and causing slip hazards.
Smoke, gas and carbon monoxide alarms are all widely available and the alarms can be linked to a telecare system, many also include options such as lighting or vibration for those who are hard of hearing.
Timers for lights can be easily used to ensure that lights around the home come on in the evening. Plug adapters are also available that switch appliances that have been left on for a pre-set length of time, such as irons.
Some people with dementia find it increasingly difficult to tell the time of day, or day in the week and often find that large bold clocks that show the time, day and date placed where an existing clock was can help in this area.
Talking prompts are particularly useful and play a pre-recorded message when movement is sensed; for instance, they could be used around doors to remind the homeowner to lock the door or take keys when they leave.
Staying Safe
Making sure that the induvial is safe in all aspects of their life is of the utmost importance, some of the devices already mentioned will help with safety as well as routine.
When it comes to medication it is crucial that it is taken, many sufferers have problems opening childproof containers or remembering the times and doses that their medication should be taken in. There are a number of options to make this area more 'user friendly'; watches and smart phone applications that issues alarms or reminders to take medication or automated pill boxes that open at pre-set times to dispense the medication.
Going one step further, American company Proteus developed a sensor the size of a poppy seed that will when stomach fluids are released. The sensor will be incorporated into medication, which when swallowed will emit signals via a wearable patch to a smartphone application to alert caregivers the medication was taken, along with other information such as heart rate and sleeping patterns. The sensor is being trialled both in the US and the UK.
Wearable technology is an area that has increased in popularity over the last 12 months. There are now a wide range of devices available that monitor heart rate, temperature, sleep patterns, daily activity that all feedback to a smartphone app or cloud based program that family members and caregivers can access. Most are discreet and worn as bracelets or directly on the skin and some also include fall sensors and can be voice activated.
This article in The Guardian also discusses the use of wearable technology to help recall memory.
Telecare
Many families are concerned about the ethical implications that arise with telecare or remote monitoring, but more often than not, the safety and wellbeing of the individual outweigh the associated guilt.
Telecare systems can be linked to a number of sensors around the home and can include remote listening or monitoring devices. They have historically been provided by social services but an increasing number of families are choosing to install private systems that will alert them directly if a sensor is set off. Not only a tool to be proactive should a potential danger arise, but monitoring habits and activities will allow you to think ahead to the next level of care or areas that need to be assisted more heavily than others.
Whether tracking and locations devices should be used can also be a difficult decision to make, but if your loved one was to wander, then tracking devices enable them to be found quickly. Devices usually come as wearables, as bracelets, even shoes or smartphones users can take advantage of GPS tracking with solutions such as 'Find my iPhone'.
There will of course be positive and negative attributes to assistive technology and there is no 'one size fits all' solution. The technology and devices should always serve to enable confidence and capability, rather than be restrictive. It is advised that consent is ALWAYS sought wherever possible; if you are having any difficulty making decision when it comes to privacy and assistive technology – you may find The Mental Capacity Act (2005) helpful. Dementia is an illness that can bring isolation and confusion for all involved, but there are a number of local and national business and organisations that will offer support and advice to ensure that decisions are made that leaves everyone feeling confident, safe and in control.