Moving from one home to the next is often cited as one of the most stressful life events, especially if you must travel long-distance to a new city. As frustrating as residential moving can be it pales in comparison to lab relocation when biological transport is needed.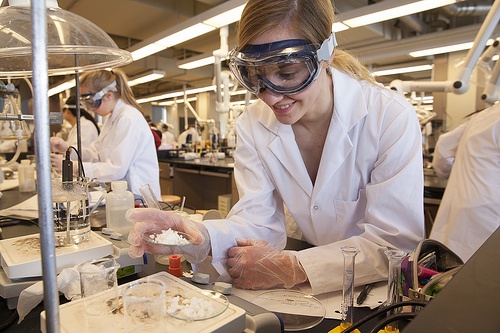 People may be able to muscle through a home move, but moving a medical or scientific facility requires professional assistance. Creating incredible medical technologies and cutting-edge treatments often starts in a biochemical lab where everything is carefully monitored and regulated. When the lab has to move locations just as many precautions have to be put into place during transport.
Certified Biological Transport
Homeowners have to be careful to choose movers that are licensed, bonded and insured since it provides assurance that they'll follow proper moving procedures. If a moving company doesn't comply with the laws or gets into a number of accidents, the license will be revoked. Fortunately, consumers just have to check for a USDOT number to verify an interstate moving company is licensed through the United States Department of Transportation (DOT).
In the medical world, laboratory managers have to find certified biological transporters. In addition to following the standard DOT and state rules for moving companies, biological transporters must have special permits from the DOT to transport biological materials. The drivers also need to be certified by the federal and state governments to transport biological materials.
The U.S. Departments of Health and Human Services (HHS), U.S. Department of Agriculture (USDA) and Centers for Disease Control (CDC) set additional regulations for transferring specific agents and toxins that pose a health threat. Laboratories may have to receive a proof of authorization from the CDC before materials can be moved.
Decontamination
Clean up is a part of any move, but it typically happens after everything is packed up and transported. When a laboratory must be moved everything has to be decontaminated before it can be loaded onto the truck. It's best to decontaminate every piece of equipment, all surfaces of furniture, cabinets, and containers.
During the decontamination and moving process, movers also need to wear personal protective equipment (PPE). Standard PPE includes:
·  Safety glasses that meet ANSI Standards

·  Surgical masks

·  Laboratory coats, aprons and/or scrub suits

·  Closed toe shoes

·  Surgical latex gloves

·  Temperature resistant gloves
Once the decontamination process is complete, disposable PPE and biohazardous material that is no longer usable must be properly contained and disposed of immediately.
Temperature Control
For most residential moves, people are just worried about the temperature outside. One of the most crucial factors for transporting biological materials is temperature control within the moving trucks. Many specimens must be kept at a certain temperature to avoid destruction and damage.
At every stage in the process, these sensitive materials have to be kept at a constant temperature. This means all vehicles must be climate controlled, airtight and equipped with an electrical system that can handle the power load. Beyond that, the transport vehicle also needs to have monitoring systems and redundant power in place to ensure that if an issue were to occur it can be detected quickly.
Secured Storage
Making sure belongings are secure throughout transport is always a concern. But when you're handling priceless or dangerous specimen or extremely expensive lab equipment the need for secured storage is much higher.
Laboratory movers have to securely pack up all materials and equipment, but one of the most important security aspects is the transport vehicle. The vehicle must meet all regulations and securely lock. All latches, locks, door hinges, etc. should be in perfect working condition. In addition, security measures must be taken during the packing and loading process so that everything is handled in secured areas.
Proper Packing Containers
Cardboard boxes may be the container of choice for residential movers, but at a bio-chemical lab, cardboard won't cut it. Special packing containers are required to ensure the safety of the biological materials and the people handling them. Some the of the specialized packing containers that are commonly used during a lab relocation include:
·  Spill kits

·  Capped secondary containers

·  Biohazardous waste containers
Many times portable freezer units are also needed to keep specimen and pathogens at a certain temperature throughout the process.
Careful Tracking
Due to the nature of the items being transported, biochemical lab movers have to carefully track everything that's being moved. In recent years government entities have cracked down on laboratories that don't follow the established protocols and prove that proper procedures were followed. This includes precise auditing of all biological materials. Failure to follow the auditing rules can result in expensive fines and citations.