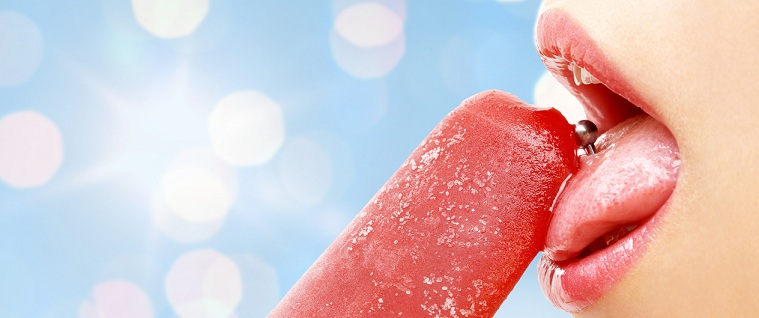 Whether you've just had your tongue pierced or you're just flirting with the idea of getting it done, you need to understand the best way to care for the piercing.
You may know some people will have bad experiences but don't let horror stories worry you – everyone is different and thousands of people have tongue piercings that heal up very well. The key is to keep it properly cleaned and to understand the smart ways to care for your tongue. Here's our guide to keep your tongue piercing in good condition.
Find a reputable piercing shop
This might be the most important step. A tongue piercing can be very prone to infection, so you need to have it carried out by an experienced professional. Do plenty of research on piercing shops in your area and find one that is fully licenced and experienced in carrying out tongue piercings. If at all possible you should take the time to visit the shop beforehand. Look out for general cleanliness and good working practice to see if it looks like the kind of place you will be comfortable.
Get advice
Talk to someone you know who has had their tongue pierced as they will have the experience to help you out. Find out what problems they encountered so that you can learn to avoid them. They may also have some great advice for dealing with the healing process.
You should also chat the process through with the person who will be performing the piercing. They will give you lots of helpful advice and will be happy to answer any questions you have. If they can't answer your questions, consider choosing a different piercing shop.
Dealing with the initial healing
The time immediately after you have had the piercing performed is probably the most challenging and uncomfortable in the healing process. In the week following the piercing you should expect to see swelling and bruising on your tongue. There may also be some light bleeding as well as tenderness at this time.
Over this initial period it's a good idea to drink plenty of water and to let ice cubes melt in your mouth. These may help to numb some of the pain and can help to reduce swelling. Conversely you should really avoid consuming anything that can irritate the piercing for a while. You should try to stay away from tobacco, alcohol, hot liquids (like tea and coffee) and any food that is spicy, salty or acidic for at least a week or so.
Clean the piercing properly
Rinsing your mouth will become something you need to do very regularly. You should rinse with alcohol-free mouthwash at least five times a day, especially after meals and before you go to bed. This is especially important during the first healing phase but should still be practiced over time to keep you from having any residual problems.
You will also need to clean the piercing itself. Using a solution made from sea salt and water, dab the piercing three or four times a day. You should also take the time to wash the piercing with antibacterial soap regularly.
You'll need to watch out for any signs of infection. It's not unusual to see a white or yellowish discharge while the piercing is still fresh. However, if you begin to see puss you need to get this attended to immediately.  
Wear the right jewellery
After the initial swelling reduces, the bar used for the piercing will be too large for the piercing. That means you'll need to return to the piercer to get a smaller piece of jewellery put in. You shouldn't try to do this yourself – you will need the jewellery changed during the healing period and that means the wound will heal up very quickly.
It's worth thinking about more than just the style of the jewellery. You might not be aware that you have an allergy or sensitivity to a certain metal – be sure to check your tolerances to a new metal before making the purchase.  
Article provided by Mike James, an independent content writer working together with Body Matters Gold, an online superstore for beautiful body jewellery and piercings.