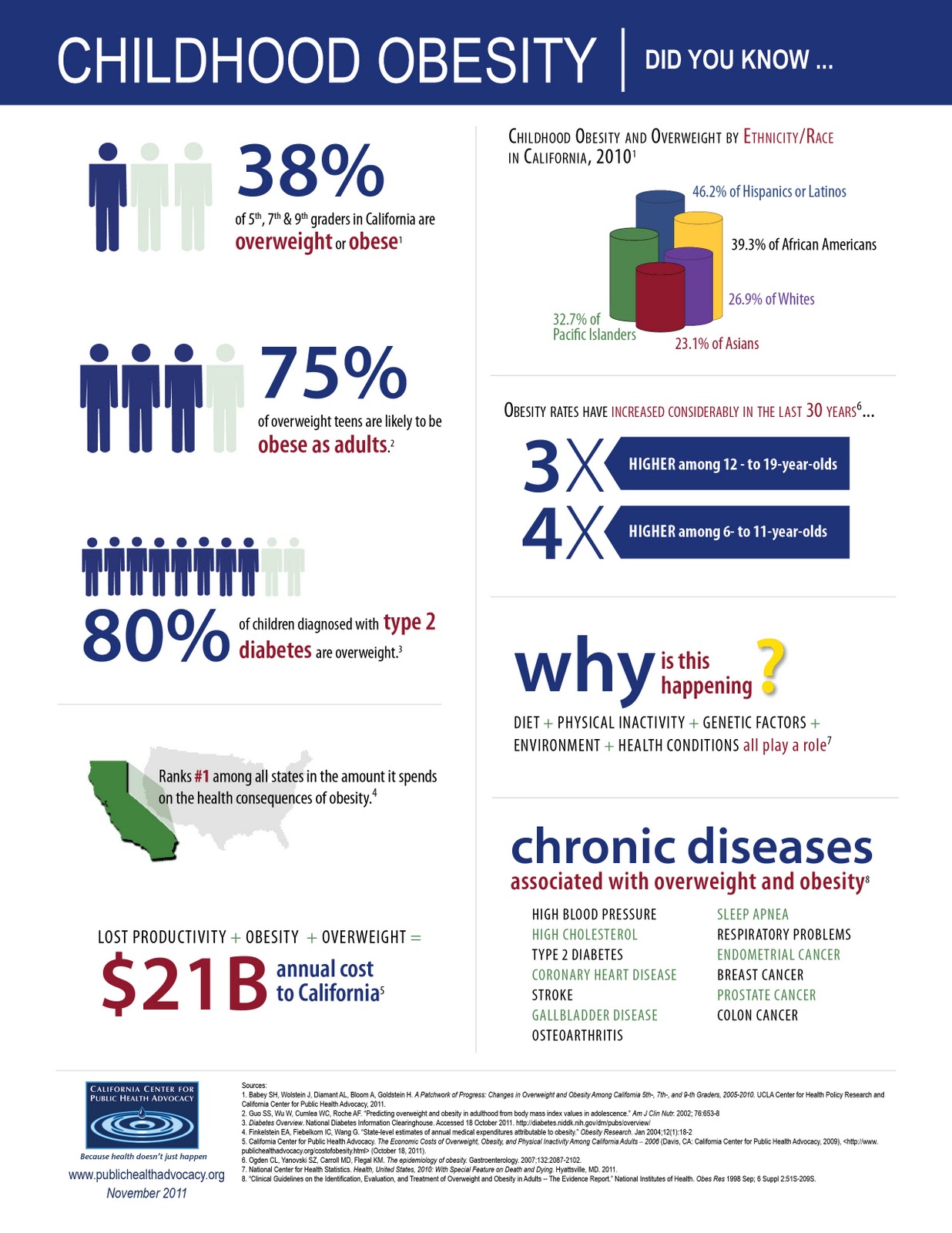 INFOGRAPHICS DETAILS:
DID YOU KNOW?
38% of 5th, 7,h & 9th graders in California are overweight or obese.
75% of overweight teens are likely to be obese as adults.
80% of children diagnosed with type 2 diabetes are overweight.
Ranks #1 among all states in the amount it spends on the health consequences of obesity.
LOST PRODUCTIVITY+OBESITY+OVERWEIGHT=$21 B annual cost to California.
Childhood Obesity and Overweight by Ethnicity/Race in California, 2010′.
46.2% of Hispanics or Latinos.
39.3% of African Americans.
26.9% of Whites.
23.1% of Asians.
32.7% of Pacific Islanders.
Obesity rates have increased considerably in the last 30 years…
3*HIGHER among 12-to-19-year-olds
4*HIGHER among6-to-11-year-olds
Why is this happening?
DIET + PHYSICAL INACTIVITY + GENETIC FACTORS + ENVIRONMENT + HEALTH CONDITIONS all play a role.
Chronic diseases Associated with Overweight and Obesity:
HIGH BLOOD pressure.
HIGH CHOLESTEROL .
TYPE 2 diabetes.
CORONARY HEART DISEASE.
STROKE.
GALLBLADDER DISEASE.
OSTEOARTHRITIS.
SLEEP APNEA .
RESPIRATORY PROBLEMS.
ENDOMETRIAL CANCER
BREAST CANCER.
PROSTATE CANCER.
COLON CANCER.