Hair loss may be something more frequently associated with men, but the truth is that up to half of all women will suffer from it at some time during their lifetime.
Female hair loss can be particularly distressing and the causes of it can be very diverse, leading to both temporary and permanent alopecia.
The good news is that although doctors may not be able to immediately resolve any hair loss, you can use a range of cosmetic solutions to disguise the effects and create a very natural appearance. Here's a comparison of some of the best products on the market.
Volumizers
If your hair loss is not universal, you might find that a volumizer system can provide you with hair which looks natural, full and luscious.
These products work well if the hair loss is patchy, or if you are suffering from hair thinning.
Volumizers work by integrating seamlessly with your own hair, providing an undetectable finish. As well as looking natural, the final result will be comfortable and secure, so you won't need to worry about pieces becoming detached. This is a 100% proven, tried and tested technique to combat hair loss.
Volumizers can help with hair loss.
Image source: https://farm8.staticflickr.com/7075/7331086856_9dabb7be50.jpg
This procedure should only be carried out by specially trained technicians, and you should ensure that the hair being used is of premium quality. This will ensure that the end result matches your natural hair pattern and won't look artificial.
Integration units
Integration units are another way to improve the appearance of thinning or patchy hair by carefully creating a natural and thick looking result.
Using moulds of the client's own head, the hair is personalised to create a style which matches the required result. No adhesives are used in the process, with each hair piece being individually hand tied and integrated with the existing hair. This means that the hair will feel like it really belongs to you and can be worn around the clock, standing up to even the most vigorous of activities such as swimming.
This type of cutting edge technology uses hair which is lightweight and versatile, and which moves naturally with no stiffness. Once in, the integrated hair units are impossible to detect, providing a real boost to the confidence of the wearer.
Integration units can be used for a variety of reasons and can provide both thickness and length, tailored to the individual requirements.
Hair pieces and wigs
If the hair loss is more severe, or if you simply prefer a removable solution, modern wigs and hair pieces are simply stunning.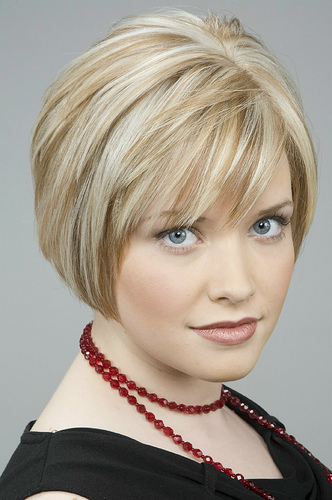 Wigs are always an option.
Image source: https://farm8.staticflickr.com/7043/6922590209_290fc9267b.jpg
Bespoke hair piece services mean that you don't need to settle for an awkward-looking off the shelf design, but can instead have the luxury of a hair system made just for you.
As well as moulds being taken to match the shape of your head, each individual hair will be selected to match not just the colour, but also the length, curl and texture. When being implanted into the hair piece, your own hair growth pattern will be studied, so the result doesn't look artificial in any way.
Once on, you will find that the hairpiece is lightweight and comfortable, so much so, that it's easy to forget you are wearing it. Picking a high quality design with premium hair means you can treat it almost as if it were your own hair, styling it just like you would usually do.
Conclusion
Female hair loss can feel like a real assault, denting confidence to the point that some women stop taking part in activities they enjoy because they feel so self-conscious. With the solutions listed above (all available from Hillside Hair Studios), hair can look thick, beautiful and natural and no-one will ever know that you've had a helping hand.
Image credits: Leyla.a and colourauthority