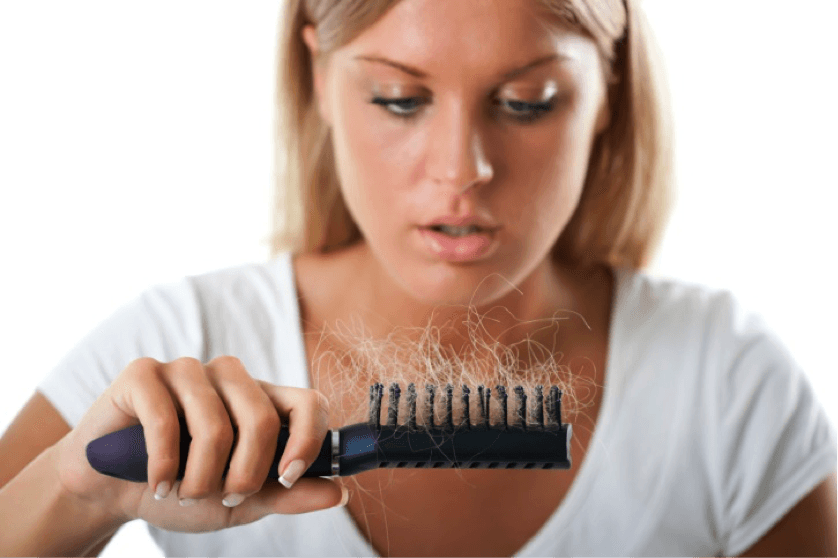 Experiencing hair loss can be a worrying and difficult time. What causedit? Is there a safe and affordable solution? In a nutshell, yes.
Hair loss affects 40% of women but don't panic! Let's educate ourselves on the different types of hair loss and treatments Hair Solved have available to get your self-esteem soaring again.
Alopecia
Alopecia is a condition that causes patches of hair to fall out and can sometimes result in full baldness. It can affect all ages but is more commonly found in children and women under 20.
At Hair Solved, the Enhancer System is a solution designed to help recreate the look of natural hair. The faux hair is attached to the head via a scalp mesh to cover up the bald patches from where the hair has fallen out.
Trichotillomania
Are you sometimes so stressed that you feel like pulling your hair out? Trichotillomania is a condition that makes the patient do exactly that. It can be extremely frustrating for sufferers and can often make them feel like they can't live a normal life.
The Enhancer System also provides a solution for this condition in that the new hair created is ableto sit in place of the old hair whilst it regrows. The enhancer can be used both on partial hair loss and full hair loss and can help reduce the urge to pull out anymore hair, protecting the remaining hair.
Hair Thinning
Most people assume hair thinning only happens to men but women have been known to suffer from it too. This can occuron the scalp, particularly around the parting, which can be damaging for a woman's self-confidence.
Similarly to Alopecia and Trichotillomania, hair thinning sufferers can also benefit from the Enhance System, as the scalp mesh and extensions can enhance existing hair or in cases of severe hair loss, replace it. The lack of glue and heat used in the faux hair is a fantastic way to help protect the remaining hair.
Chemotherapy
For some women, the hair regrowth stages following chemotherapy can be difficult to deal with. There is no guarantee that the hair will grow back to the condition it was in before and can often grow back thinner or in patches.
For some cancer suffers, the idea of wearing a wig can be demoralising, not to mention expensive. The Enhancer solution is a brilliant way to disguise the post cancer regrowth because it helps to create a more realistic, natural and gentler look.
Accident & Surgery
In this case, hair loss can be a result of scarring, medication or when a patient's body has suffered a considerable amount of shock from the accident. If the patient is healthy then the hair can grow back as normal but if not, the patient won't be aware of this until the regrowth of hair begins to take place. Only then can the patient be notified on the particular options they can take.
Your hair is a massive part of your image so the idea of losing it, no matter what the cause may be, can be a traumatic experience. The treatment at Hair Solved will no doubt be beneficial for your hair regrowth journey and thus, the return of your self-confidence.