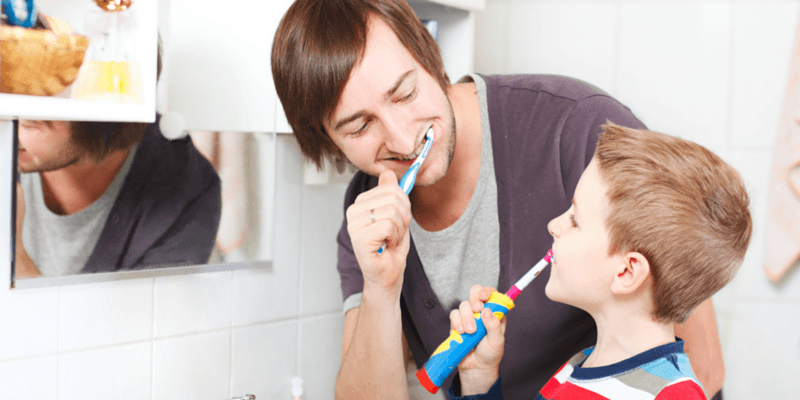 It can be a long a tedious process, getting your young children into a regular teeth brushing routine, particularly if you have trouble getting them to bed in the first place, or if they're restless sleepers. Children are often full of energy and bouncing about at a young age, and often any mere mention of bedtime sets them off bounding around the house.
While a good story and a warm tucking in can really help, it is crucial that you make sure to enforce good dental hygiene with your children. Brushing for up to two minutes twice a day is recommended and while your children will eventually lose their milk teeth to make way for their adult teeth, establishing a teeth-brushing habit is essential so that they can continue to take good care of their permanent teeth. Plus, tooth brushing also strengthens their gums and keeps their tongue good and clean, making it a great environment for new teeth to poke through.
We take a look at 5 top tips used to get kids caring about good dental hygiene, and how you can introduce dental hygiene into your night time routine.
Routine
Unless you have a regular night time routine, trying to get a child organised about anything can be hard work. Routines give them a sense of normality and comfort and they get used to the steps of the night time routine. If you start off brushing their teeth after a bath and before a story, try to keep it that way.
Set a routine that both you and your kids and any babysitters can easily stick to, that way there is a solid 'way of doing things' that gets your kids prepared for sleeping. This will also help them later on in life with time management and getting their own kids sorted in turn. It is a whole cycle!
Tone of Voice
This may sound like a rather odd tip, but the tone of voice you use when trying to get your kids to brush their teeth can have an impact on how they view the 'activity'. The aim is to get the children seeing it as an activity rather than a 'chore', just another step in the routine of their daily lives and not something to try and skip or to try and get over with as soon as possible.
It works in very much the same principle as introducing fruits and vegetables as treats into your kids lives. By introducing it as something fun and good, children will be less likely to reject it and will more readily incorporate tooth brushing into their daily routine.
Funky Toothbrush Designs
Who says that when you grow older you have to have a boring toothbrush? Specially designed children's toothbrushes are often designed with their favourite TV show and movie characters in mind, with bright colours and sometimes even audible catchphrases to get the kids excited.
Or you can choose from a range of animal designs, where the toothbrush is slightly different shaped to reflect a specific animal to make tooth brushing that little bit more fun.
Flavoured Toothpaste
Famous brands will provide an odd range of bubblegum, strawberry and even wackier flavours for your kids to enjoy. Sometimes peppermint toothpaste can be a bit too strong on young taste buds, so sweeter flavours are often used.
Make sure to buy the official, recommended brands as other brands may not be quite as good for your children's teeth and never try to make your own by mixing it in with regular toothpaste, as toothpaste is toxic when swallowed in large quantities!
Brush to a Song
This is fun for all the family. Get a short song, no longer than two minutes, or remix a song you like into a shortened version of that song and label it 'the tooth brushing song'. The kids have to brush for the duration of the song, making it a fun and easy game to play.
While children tend to be more patient with repetitive songs, it might be good for the sanity of the adults to suggest a 'tooth brushing playlist' so that you can swap out certain songs when they start to grate a little.
As with getting your kids interested in anything, it can take a bit of work and effort, but eventually the work will pay off and you can stop dreading those future visits to the dentists now. Take a step back, relax and be proud of yourself, you've just helped make your kids more aware of keeping their teeth clean and healthy!
Article provided by www.omniadental.co.uk, a long-running private dentist practice operating in Basingstoke since 1977 – and shortlisted for the Private Dentist Award of 2014.