Stress and depression affect a lot of people, and sometimes it's hard to find ways to beat them. You can take medications, but some people prefer to find more natural ways to fight the things that all them, even problems with their minds.
If you suffer from stress or depression, you may like to know that art (in all its forms) can be a great thing to use in order to fight your illnesses. You will find that when you start to embrace more art and creativity in your life you are happier, calmer, and even more motivated.
#1. Art Therapy
Art therapy is being used in many places these days. That's because it works to help people express their thoughts and feelings. People suffering from emotional problems may find it extremely difficult to explain their problems.
Art gives you a chance to get those feelings out on a canvas, and that way they are out of your mind. Having them turned into art may be able to make it easier for you to explain your feelings to people. Since art is subjective, you can create anything you want.
#2. Crafting
Taking up a craft as a hobby can be a wonderful way to beat stress. People that have regular hobbies that they do simply because they enjoy them suffer less from stress, anxiety, and depression. Crafting has even been found to help those suffering from chronic pain.
Pick something that works for you, because you don't want it to be stressful. If crocheting seems like too much work for you, start baking cupcakes or take up cross-stitch. Maybe you just want to start being a nature photographer.
#3. Art And Nature Walks
If you live someplace rich in art, take a stroll and look at the artwork, whether it is in statues on the sidewalks, or inside a museum or gallery. Art evokes different emotions, one of them being happiness.
#4. Journaling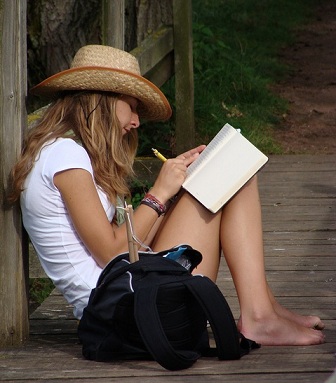 Writing is a form of art, and keeping a journal can be a really good way to relieve your depression, stress, and anxiety. Write about your problems and the things that make you anxious. Write poetry, or just write about your day. Don't be afraid to doodle in your journal too, if it makes you feel better.
#5. Listen To Music
Even if you don't have the skill and talent to play an instrument, you can listen to music to help change your mood. Listen to something uplifting that makes you smile, whenever you are feeling down. Listen to something calming, like classical or instrumental, whenever you are feeling anxious.
Art can do so many things in your life, so why not add more of it in your day to day activities. Use art to lift your mood and to inspire you.