Essential oils are becoming more and more popular, and there's no mystery regarding why that is. After a few uses, even skeptics will believe in the power of these magical, fragrant oils. It seems as if there's an essential oil for any ailment, as well as some options for those who just need relaxation or pampering. When you use essential oils in the bath, you'll be amazed at the way they improve both your body and your mind.
Most Popular Benefits
If you're considering introducing essential oils into your daily health and beauty routine — or adding them in as a special treat — be sure to choose the right oils based on the results you want. Here are a few of the most popular benefits of health and skin oils, as well as some tips on how to incorporate aromatherapy into your baths.
Boosts Mood
Over the years, many studies have revealed that all five of our senses — sight, smell, taste, feel and hearing — have a direct impact on our mood. For this reason, one of the main draws of many essential oils is the positive impact it has on the mind. Whether you're looking to wake up and get moving or settle down at the end of a long day, you can find an essential oil to match the mood you're looking to achieve.
Ylang-ylang, jasmine, lemon, rosemary and thyme linalool are a few go-to oils for boosting your mood, energizing your mind and also improving your focus and concentration. If you're feeling stressed or anxious, try mixing lavender, clary sage and bergamot.
While we don't have scientific proof yet that aromatherapy can prevent or cure mental illnesses, the proven effects of these oils are certainly beneficial for treating a range of conditions. Those suffering from mental disorders such as depression, anxiety and insomnia, as well as anyone with physical ailments that cause stress or pain in the body, can benefit from adding some aromatherapy to their lives.
Relaxes Muscles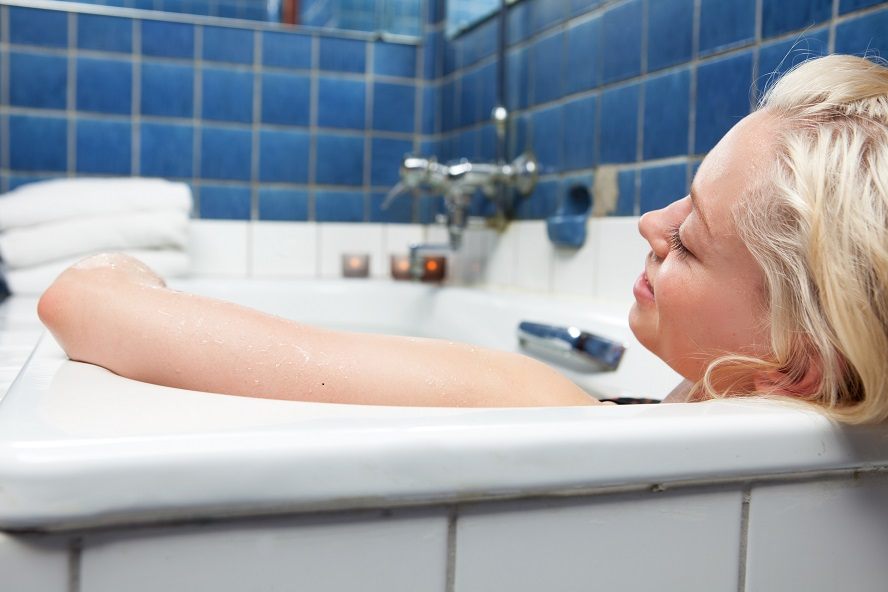 After a long week of working and exercising, most people will experience soreness in their muscles. When you mix essential oils in with your warm bath water, they'll work to loosen and soothe your muscles. Since many of these oils are anti-inflammatory, they can reduce any inflammation around your joints putting additional pressure on your muscles. Plus, being able to relax thanks to the soothing scents and warm water will allow your body to let go of any tension and loosen up your muscles.
A few essential oils that are excellent at relaxing muscles are orange, lavender, marjoram, juniper, eucalyptus and lemongrass. Adding Epson salt along with the essential oil of your choice is a great way to enhance your muscle-relaxing bath even more.
Softens Skin
One advantage of taking an oil bath instead of a regular bath is the way your skin will feel after you dry off. Since pure essential oils can irritate the skin and mucous membranes, diluting them in a warm bath is the best way to reap the skincare benefits of aromatherapy.
If softer skin is your primary goal, be sure your water isn't too hot. Warm water is typically more ideal than scalding water, as a bath that's too hot will strip the natural oils from your skin. If you also scrub your body with a loofah during your oil bath, you'll eliminate more dead skin than if you did so in a regular shower or bath.
Some of the best skin-nourishing aromatherapy options are rose, chamomile, sandalwood and tea tree oil.
Tips to Remember When Bathing with Essential Oils
When you want to take a bath with essential oils, it involves a little bit more than just throwing some oil into the tub. Remember the following tips for a successful aromatherapy bath experience:
Disperse the oil throughout the water:

Essential oils will work in your bath only if you mix them properly. To do so, use a carrier oil to ensure the essential oils actually mix in with the water rather than just floating on top. Examples of carrier oils include sunflower, olive, coconut and jojoba.
Choose the right oils:

As discussed earlier in the article, every oil creates a unique effect on the body and mind. Be sure to ask yourself the way you want this bath to make you feel, then do your research to choose the essential oils that make sense to use.
Fill the tub first:

Essential oil baths are not like bubble baths — you'll need to fill the tub completely before adding your oil. As tempting as it may be to add a few drops before turning off the water, it's not worth it. Rather than mixing in with the water so that your mind and body can reap the benefits, the oil will easily escape from the water if it's running. As a result, instead of mixing with the bath, it will just be scenting your bathroom.
Know if you should avoid aromatherapy:

While aromatherapy is effective and useful for most people, certain groups

may want to avoid using essential oils

without first talking to their physician. This group can include children under 5, people with lung conditions, people with severe skin allergies and pregnant women. While individuals who fall within these categories can certainly still benefit from the power of essential oils, it's imperative for them to speak with a doctor first to ensure they follow any specific measures required based on the condition.
Add Some Aromatherapy to Your Baths
If you've been on the fence about adding aromatherapy to your self-care routine, consider these benefits as you make your decision. One of the great things about essential oils is how versatile they are — you can find one that treats almost any ailment or symptom.
Essential oil baths are a simple way to incorporate aromatherapy into your life, but remember: Everyone's different. Don't be afraid to try out many different scents and options until you find your favorites. And as always, it's generally a good idea to chat with a doctor before trying out any new health or wellness product.
References:
https://www.researchgate.net/post/What_is_a_good_oil_to_use_for_an_oil_bath
https://ehs.research.uiowa.edu/oil-baths-laboratories
https://www.webmd.com/skin-problems-and-treatments/eczema/features/take-a-healing-bath#1
https://www.medicalnewstoday.com/articles/321398.php