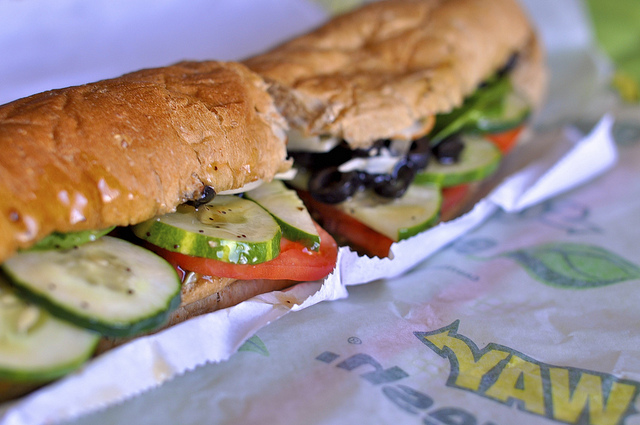 Today, fast food joints are all jumping into the healthy bandwagon and have acknowledged the need to offer their customers better and healthy food options. This has become very important since the rise of obesity among children and adults as well.
When you are hungry and in a hurry, fast food joints are the easiest option. Fast food is cheap, tasty and convenient. The worst thing is that some food options are filled with calories, sodium, trans-fat and sugar which are unhealthy for your body. Eating unhealthy has been found to contribute to obesity which ultimately contributes to diabetes and cardio vascular problems as well.
Below is how to eat well at fast food joints:
McDonald's Premium Caesar Salad without chicken
As a fast food lover, you have a healthy choice especially when you visit any McDonald. McDonald's Premium Caesar Salad without chicken is one of the healthiest meal choices that is not only beneficial to your body but also ensures that you are full.
The meal choice is composed of nutrients and minerals which help in the growth and development of an individuals body. The McDonald's Premium Caesar Salad without chicken contains less calories or adequate calories needed by the body. If you were to add grilled chicken, you will be adding 7 grams of carbs into your body and when you order with crispy chicken, you will be adding 24 grams of carbs in your body.
This can lead to diabetes but when you order without chicken, you ensure the health of your body.
Subway Turkey Breast and Ham Salad 6" sub
(12g cab for meat, 46g carb for bread)
Subway's turkey breast and ham salad is a healthy option especially when you are hungry and in a hurry. The meal contains one of the healthiest meat option which is turkey breast. Turkey as poultry has white meat which has been classified by health experts as healthy and beneficial to the body.
The meal contains 130 calories, 3 grams of fat, 800 mg of sodium, 15 grams of carbohydrates, 4 grams of dietary fiber and 14 grams of proteins. The combination of these nutrients and minerals ensure that one leads a healthy lifestyle.
Taco Bell Crunchy Taco
The meal contains 170 calories, 10 grams of fat, 310 mg of sodium, 1 gram of sugar 8grams of protein and 3 grams of dietary fiber which when consumed, not only provide energy but also help in the building of cells and tissues. This is thanks to the availability of protein in the meal.
The meal is healthy and does not contribute to diabetes in the long run because it contains low fat content which is converted into energy for body functions easily.
KFC Honey BBQ Sandwich
KFC has also jumped onto the healthy food band wagon and one of the healthiest meals on offer includes the Honey BBQ sandwich. The meal contains 280 calories, 3.5 grams of fat, 3 grams of fiber, 32 grams of carbohydrates and 14 grams of protein. The nutrients and minerals contribute to better metabolism, improved immunity as well as reduced chances of getting diabetes.
Chipotle Barbacoa and Guacamole salad
When you eat at Chipotle, you are not only assured of great healthy meals but the ingredients used are GMO free. This is thanks to their policy of disclosing meals that are prepared with GMO ingredients therefore offering customers a choice.
The Barbacoa and Guacamole salad is full of nutrition and contains 37 grams of protein, 19 grams of fiber, 40 grams of carbs and 31 grams of fat.
Tips to keep track of your diet
Keep a diet diary
A diet diary allows you to record each meal that you consume in a day and how many calories the meal contains. This allows you to know if you are still on track or not. In the food diary, you can record your current weight, your goal weight, the meal consumed, calories in the meal and a few notes.
Use apps
Thanks to technology, people can keep track of what they eat using apps. One has the option of iOS or Android or Windows apps. This option is convenient as you can use the device to research and know how much calories are in a meal.
Smart devices like smartphones, smart watches and tablets enable users to access free and paid apps that help one to track their diet and weight. Some of the apps include My Fitness Pal, Nutrino, My Diet Coach and Weight Watchers app.
This apps not only enable users to track what they eat and how much they weight but they also provide useful tips that help to improve one's diet and lifestyle. This is thanks to their ability to connect to the internet via wifi or mobile data.
Do you love eating at fast food joints? Do want to maintain a healthy lifestyle? Well….you don't have to for go eating at your favorite fast food joint. Fast food restaurants have jumped in the health bandwagon and are offering customers healthy meal options.
They include the Subway Turkey Breast and Ham Salad 6", Taco Bell Crunchy Taco, KFC Honey BBQ Sandwich, Taco Bell Crunchy Taco and Chipotle Barbacoa and Guacamole salad among others.
You can also track what you eat so as to ensure that calories consumed will not lead to obesity. You can keep a diet diary as well as using apps such as neutrino and my diet coach.
Article courtesy of DTS Buyers – sell your diabetic test strips today