Getting that Hollywood smile is something that more and more people dream of in Britain. With the growing demand for cosmetic dentistry, the treatments for the perfect smile have become so much more accessible to us all, not just stars on the red carpet.
Today, the laser teeth whitening procedure is carried out quickly and conveniently in many clinics around the country. As the cosmetic dentistry industry continues to grow, treatment options for obtaining the perfect smile have become more accessible to people of various economic backgrounds.
One of the most popular ways to achieve pearly white perfection these days is through the laser teeth whitening procedure. In this article we will analyze the pros and cons of laser teeth whitening, how it is done, and what results you can expect. As with every cosmetic treatment, there are reasons why you should or shouldn't have them. So here we look at the advantages and the disadvantages of laser teeth whitening.
Read on to learn more!
Why Would I Need My Teeth Whitened?
While everyone's reasons may be different for why they want a brighter and whiter smile, many people have insecurities surrounding the yellowing of their teeth. Yellowing teeth can be caused by age, stains from food and drinks, smoking, and more. Tartar also impacts the color of teeth. In order to have a brighter and whiter smile, people often look to teeth whitening procedures.
There are also many benefits of having a confident and beautiful smile!
People with great smiles get paid more – yes, seriously! Research has shown that those with more attractive smiles project more confidence and are more successful at job interviews, while getting paid higher than those with dull and crooked teeth

Your smile is your first impression – In many studies, more than 50 percent of people claim that a person's smile is the first thing they notice about them.

Smiling can lead to a longer life – Smiling releases endorphins, the happy hormone. One study looked at Major League Baseball player's cards, and those who smiled in their pictures, on average, lived 7 years longer than those who didn't!
The Benefits of Having a Whiter Smile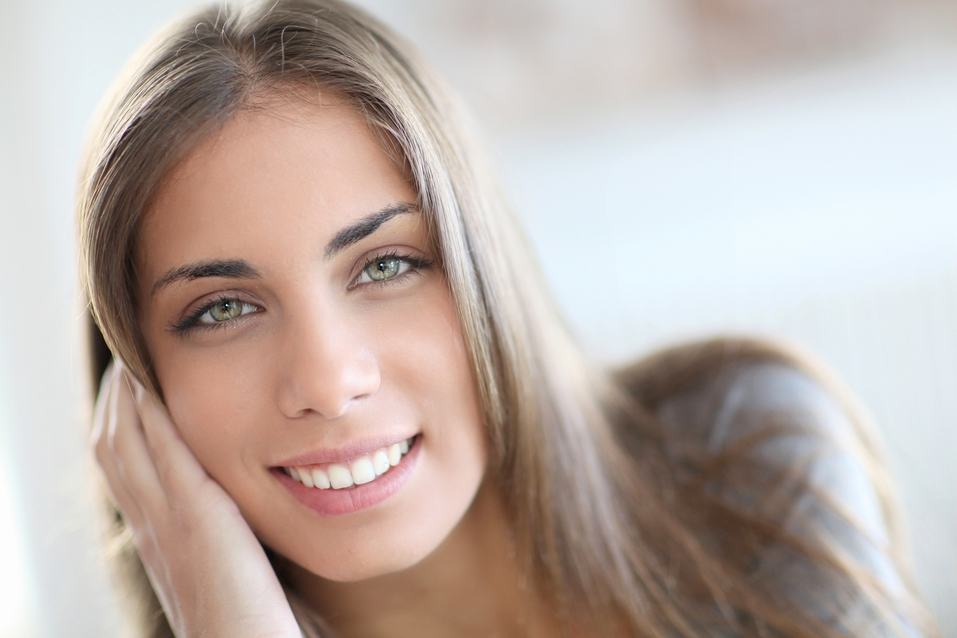 A confident smile can take people very far in life. Here are some statistics on the benefits of a whiter smile:
99.7% of adults believe a great smile is an important social asset

96% of adults believe that a great smile makes you more attractive to the opposite sex

74% of adults believe that an unattractive smile can negatively impact your career

A whiter smile is linked to increasing self confidence

You are scientifically more likely to smile if you are proud of your teeth

A bright, white smile radiates confidence

Yellow, discolored teeth can be a sign of aging, and having whiter teeth can make you look 5 to 10 years younger

Teeth whitening treatments are linked to improving overall oral hygiene, as patients are motivated to maintain their pearly whites
In-Office Whitening Treatments vs At-Home Whitening Treatments
When it comes to getting a whiter smile, you have two options: head to the professionals, or try it at home. Both options utilize peroxide based bleaching agents. At home systems typically use anywhere from 3% to 20% peroxide, while in-office systems generally utilize 15% to 43% peroxide.
The longer you keep the solution on your teeth, the whiter they become. However, the stronger the solution, the shorter amount of time it should stay on the teeth. Keeping the bleaching solution on too long can cause tooth sensitivity.
In-office treatments offer the most dramatic results, with most patients reporting anywhere from 3 to 8 shades brighter teeth by the end of their treatment(s). The cost of in-office treatments vary, but are generally not covered by insurance.
At-home whitening treatments come in many shapes and sizes, from tooth whitening strips and gels, to toothpastes, and tray-based whitening systems. Each of these options vary in their results and prices. Most at-home whitening systems take up to 2 weeks for dramatic results, while in-office treatments are, for the most part, instantaneous.
Laser teeth whitening has quickly risen to the top of the cosmetic dentistry market, because of its incredible teeth whitening results in as little as 60 minutes. Read on to learn more about what laser teeth whitening is, how it works, and the pros and cons of this type of in-office teeth whitening treatment.
What is Laser Teeth Whitening?
Laser teeth whitening is an effective way to whiten and brighten teeth, without removing any of the tooth's surface or causing damage to the teeth. It is also called power whitening, and is one of the most common ways to treat discolored teeth.
Laser teeth whitening is done in a dentist's office. The dentist will protect your gums using a rubber dam, and then s/he will paint a bleaching product onto the surface of your teeth. Next, they will use a laser and shine it on the teeth to activate the chemical in the bleaching product. The laser speeds up the whitening process, helping patients achieve a whiter and brighter smile much faster than other teeth whitening methods. On average, a laser teeth whitening treatment cab cost anywhere from $500 – $2500 per session. While this is definitely one of the more expensive teeth whitening options, it also provides the best results.
Pros of Laser Teeth Whitening
Laser teeth whitening has opened a lot of doors for people who suffer from bad teeth. Whether your teeth have yellowed over time or you have developed stains that just won't go, teeth whitening can help give you back your confidence once again.
60 minute treatment session – most laser teeth whitening procedures are done in 60 minutes or less, leaving you with a much whiter and brighter smile in under an hour

14 shades lighter – many laser teeth whitening procedures can whiten teeth by up to 14 shades! This makes a huge difference in the color of teeth and the confidence behind the smile

Eradicates stains – laser teeth whitening removes stubborn stains such as those left behind from coffee, red wine, tea, soft drinks, smoking, and more

Professional treatment – laser teeth whitening is done by experts in the cosmetic dentistry field, so you know you're in good hands

Instant results – laser teeth whitening provides instant gratification because there is no waiting period before seeing results. Results will be noticeable as soon as the procedure is complete!

Long lasting results – many patients that utilize laser teeth whitening have results that last up to 2 years, while others never have to repeat the procedure!

Easily accessible – with more and more cosmetic dentists popping up, finding a qualified professional to perform laser teeth whitening is easier than ever

Non-invasive treatment – Does not cause any pain or bleeding during or after the session
Cons of Laser Teeth Whitening
While professional laser teeth whitening has many advantages, it is not without its disadvantages. Here are the cons of laser teeth whitening treatment:
Price point – in most cases, laser teeth whitening procedures are not cheap and are not covered by insurance. As a cosmetic procedure, there's a price attached to the cost of pearly whites.

Tooth sensitivity – some clients report increased tooth sensitivity after getting laser teeth whitening performed. For most, this feeling subsides eventually.

Recurring treatments – some patients do not feel the need for follow up laser teeth whitening sessions, but others feel the need to return for touch ups. This could become an expensive maintenance habit
Here are the pros and cons of today's modern laser teeth whitening treatment. Before you go ahead with your treatment, make sure you speak to your dentist about all the options, prices and what you expect to achieve. A good dentist will offer you a consultation to discuss everything with you, including how the procedure will work.
Conclusion
Laser teeth whitening is quickly becoming one of the more popular cosmetic dentistry options. It offers patients a professional teeth whitening option, with dramatic results in as little as an hour.
With results that can last up to two years or more, expect to see laser teeth whitening become more and more common, and people understand that there's something to be said for having a million dollar smile!
References:
https://www.ncbi.nlm.nih.gov/pmc/articles/PMC4385673/
https://www.researchgate.net/publication/276938597_Laser_Teeth_Bleaching_Evaluation_of_Eventual_Side_Effects_on_Enamel_and_the_Pulp_and_the_Efficiency_In_Vitro_and_In_Vivo
https://www.docshop.com/education/dental/procedures/teeth-whitening/lasersmile
https://www.cdha.ca/pdfs/Education/Scene/volume33_6_page5.pdf
https://www.colgate.com/en-us/oral-health/cosmetic-dentistry/teeth-whitening/is-laser-teeth-whitening-an-option-for-you-0914
https://www.verywellhealth.com/the-side-effects-from-tooth-whitening-1059029