They say that the youngest in the family is the most spoilt one. However, it isn't wholly accurate especially when you and your siblings have a vast age difference. While it doesn't hurt to be treated like the baby of the family on occasion, all of this changes when one of your parents becomes ill.
My name is Anne, I'm an art gallery curator, and this is the story of my life as a dementia caregiver for my mother.
It is it can take quite a toll on you when you see someone, whom you love, start to deteriorate mentally. My mom has always been a decision maker, so when she began showing symptoms of dementia, my family and I were taken aback. She has always been your rock throughout your life.
However, her GP who has known her for many years had advised that showing symptoms of dementia was not the end of the world. He then recommended her case to a gerontologist that would examine her in detail, evaluate the braintest reviews and help her deal with dementia.
Over the years I learned a few things that I believe were little life lessons that made me realize life isn't over. It gave me a new perspective on life, not only as a dementia caregiver but also for the person going through this mental illness. I'm sharing a few nuggets of wisdom that I learned over the years.
Life will change, but everything is adjustable.
Just because an elder person has dementia does not mean they will have to stop living life. Yes, there will be times when significant adjustments will have to be made. For example, make sure that they aren't left alone in new places for too long.
It had been a while since my mother's dementia diagnosis, and my sister had a baby. We were visiting a hospital to take her and her newborn home, my sister had forgotten her phone charger in her hospital room. My mom said she would get it so we could continue with the discharging process. It had been over an hour, and she hadn't come back, I went and checked the room, and she wasn't there either. Around the corner of the room, there was another seating area, she was sitting there quietly clutching the charger (without her phone) because she forgot her way back. That's when we all realized that we shouldn't leave her completely alone in a new place.
Parents like being in control and take care of things, let them.
For someone like my mother, who has been active all her life and managed to maintain a healthy old-school lifestyle, taking new medication to aid her memory loss was a task. I decided to get a weekly – pill separator for her, and at the beginning of the new week, she and I would sit there and place those pills together in the tiny boxes. This way it was a form of a memory game that would help her remember, and she also knew what she was consuming and why.
My mom also loved handling everything. She always used to feel like she was in control of her life. Just because she now has dementia doesn't mean she isn't. She is still able to make decisions.
However, she isn't as good with numbers as she used to be. For someone who always had her finances in check, she would start making double payments or forgetting to pay at all. So my family and I made small changes, we would go grocery shopping with her after writing a list, and let her pay at the counter. So things changed, but not by too much.
You Are the Caretaker, Trust Your Gut.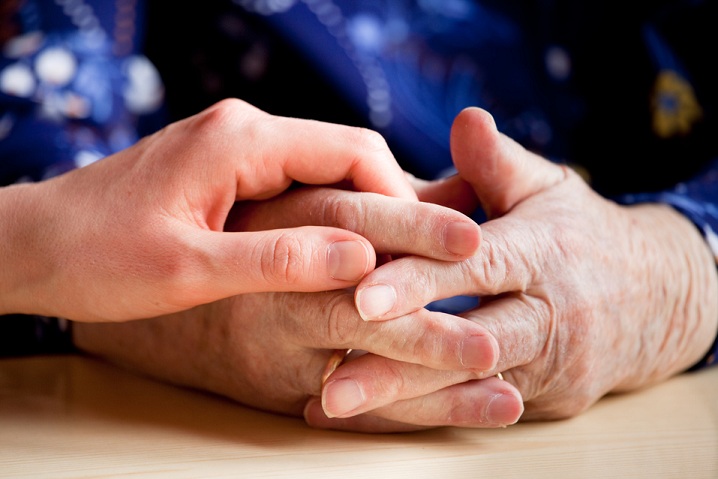 My mom is my responsibility. She is someone that I love immensely. With time I realized that what I choose for her and her well-being isn't just based on what medical professional tell me, it is also based on my knowledge of her and my instinct.
The clinic sends over a very well-trained nurse to our home, who happens to be in the top of her field of dementia caregivers.  She comes in for a couple of hours a day to check on my mom's progress and help with her exercises. I am grateful that she can come and train my mother and push her like a personal trainer for her workouts.
However, there are days I know how much my mother can handle and if she has gotten a bit too tired. If I feel she is being pushed more than she can handle, I immediately request the caretaker to stop and let her rest or just end it for the day. It also helps if you develop a certain level of rapport with other people taking care of your loved one, that way a sense of mutual respect and boundaries can develop.
Don't Overthink About the Illness
Life is too short, so instead of trying to fix and change everything just learn to accept things the way they are.  My family and I try our level best to keep our mother involved in things she used to love doing. She and I still knit, bake, do some light gardening, visit the park, and on occasion, if she is feeling up to it –have a movie night the way we used to.  
Her memories may come and go, and she might not remember a lot of things later on during the later stages of the disease, but we all will remember how those moments made her happy. It hurts a little that there are days she slips away, but seeing her laugh, smile, and still be my mom makes things easier. She may have this disease, but she is still wise beyond years, and every day that take care of her I learn more about her and myself.
My request to other dementia caretakers is not to be too harsh on yourselves. There is no possible way you could've detected this and don't be afraid to ask for help when you need. Life is beautiful, don't let momentary downsides bring you down.