Everyone needs music. This is an element of relaxation that can be beneficial for people of all ages. There are different benefits that you will be able to get just be listening to music. It can be a way of relaxation for people who are tired and stressed out. It is also a way for people who are exercising to feel pumped up as they try to sweat. There are a lot of things that you can do while you are listening to music.
As you age, you become more prone to depression and some other physical conditions. There would be days when you would feel bored or nostalgic. During these days, you have to consider listening to music. With the right song being played in the background, you will certainly have better thoughts.
Music Therapy Activities for the Elderly
What is amazing about music is that is can be a very powerful tool that can change your mood and make you feel better. This is one of the reasons why music therapy is being utilized by nursing homes and even the homes for the elderly. With the proper music, you will have the right emotion and you will be able to focus more on what you are doing. This is a very important thing that you need as you age. If you are thinking of the best music therapy activities, here is a list for you:
Playlist.

With the assistance of another person, you can develop a playlist of the songs and music that you enjoy most and those that can make you feel good.

Drum Roll.

You can also use makeshift drums to enhance your rhythmic instinct and make sounds in harmony with a familiar music or song.

Play Music.

The simplest way for you to enjoy a music therapy activity is to just wear your headphones and listen to some good music as you relax.
Music and Movement for Dementia
With the increasing number of people who are experiencing dementia, it is very important to know the different ways on how to lessen the risk of developing one. For older people, it is now a rising case and if you are a concerned family member who wants to help your elderly parents or family member, you should consider music and exercise as important elements to lessen the risk. Take note that these two will not heal dementia but it can help in delaying the symptoms.
Older people should be encouraged to move around and exercise. This way, they will be able to slow down the progression of any condition that can be brought by old age. Music is then used as a motivational tool to allow the older people to enjoy exercise. With the right music, it will be easier for them to move and exercise.
Effects of Music on Alzheimer Patients
A study has been done and it was found out that people who are experiencing Alzheimer's disease can easily memorize words and concepts that are sung to them. It is easier for them to memorize lyrics than words that are spoken to them. This is something that made the researchers thought about the importance of music among older people who are also Alzheimer patients. Though music is not used for treatment but there is a special tap that it can do to the brain. It can be used to enhance the memory formation of an individual. For music to be used for the care of Alzheimer patients, the content and repetition of lyrics have to be enhancing and it should come naturally.
Musical Instruments for Dementia Patients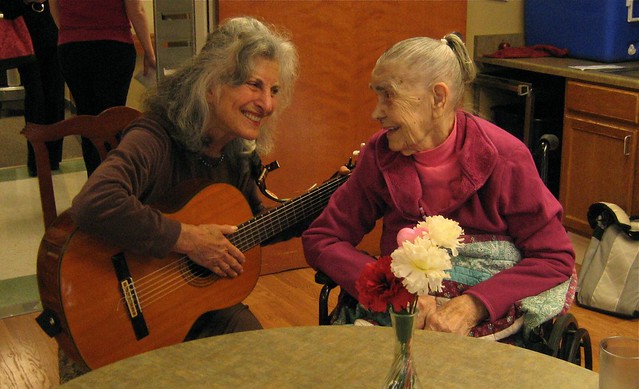 Aside from letting them listen to music, you can also encourage dementia patients to take music lessons. Through this, you will not only help them relax but you will also be able to influence the cognitive function of the brain. With the right and proper assistance in learning music, the Dementia patients will be able to learn to coordinate their motor functions and facilitate cognitive function. These are all beneficial in delaying the symptoms of the condition.
The first thing that should be considered here is the interest of the patient. This way, you will be able to know exactly what he or she would like to play. It is not too late to look back to the past music lessons that they were able to take when they were younger. Let them spend their time playing a musical instrument. This way, they are enhancing their brain function and also doing something that is relaxing.
Music for Dementia and Parkinson's Disease among the Elderly
Firstly, you have to know that the different types of music also have different functions in the brain. Stimulating music can activate the person and make him or her more pumped up. On the other hand, there is some sedative music that can be used to let a person relax. With this, you have to choose the songs or music that you will let a Dementia patient or someone who is experiencing Parkinson's Disease will listen to. With music, you will be able to encourage a person to dance, move around and just be physically active. This is something that people who are experiencing dementia should be doing. To be physically active, there is a need for you to choose the proper song to play.
For people who are experiencing different constraints, physical and emotional pains due to aging, music is great therapy. Instead of letting them drown in their thoughts and be idle the whole day, you can give an older person a better chance to have a great mood with the help of music. There is something very special about music that it can easily penetrate and do wonders even to those who are already losing their memory. It should not only be used for relaxation but it should also be seen as a potential tool to make sure that their brain functions are preserved even as they age.