Going for a date and choosing a life partner seems easier than selecting a perfect mattress as per your need. Finding your perfect mattress can be exhausting because of plenty of options available in the market.
This is then we need to dig through the potential mattress contenders.
A mattress is considered an investment and you will be spending more than a decade sleeping on it. A good quality mattress can last for a minimum of 10 to 15 years. Therefore you must make a wiser choice while purchasing one as the cost of a quality mattress is never cheap. It is also important to find that your primary need is also being fulfilled while looking for a mattress.
It is very much likely that you & your partner have different kinds of sleeping preferences. Let us say, you are struggling with your poor back problems then you would need a mattress that has orthopedic support. And say your partner is a stomach sleeper then there is a need for a tight or firm mattress. If you & your partner are not able to agree on what to choose from multiple choices of mattresses, then you should have the best of both worlds. You should go for a split king-type mattress with a split king bed.
While you have a king-size bed in your room, you can split the mattress into two twin xl mattresses. You and your partner get their own space in the same bed. Nothing can be more amazing than this.
What is a Split King Mattress
A split king mattress is a king-size mattress that is split into halves. These halves are just two twin XL mattresses side by side. You can compare the split king with a king-size mattress as they share the dimensions. A split king mattress is the same size as a king mattress. It is very much ideal for couples who have different sleep preferences. It also helps isolate the motion transfer. You can also use the adjustable frame to accommodate these mattresses.
Size/Dimensions of King, Split King, and twin XL mattress
Twin XL Mattress: 38×80 inches
King Mattress: 76×80 inches
Split King Mattress: 76×80 0 inches
Which Type of Bed is Suitable for Split King Mattress
As the split king mattress is made of two separate twin XL mattresses, there are chances of drifting of the mattresses & beds if the split bed frame is not secure enough.
There is a need to keep your mattresses together and this can be done only by using a bed frame that fits your split king mattress. There are adjustable bed bases that are specifically made for use in split king mattresses. These kinds of beds are the best fit and do not allow mattresses to slip or create gaps in split king mattresses. The split king adjustable beds fulfill the need of 2 people at the same point. Adjustable bed bases also elevate your head and legs into a specific place that helps you sleep better. This allows each person to adjust the settings for their side independently.
Still, if you do not want to buy adjustable bed bases you may opt for other ways to keep your mattresses together. Your normal bed frames can include a metal bar connector that holds the two frames together or you may put non-slip material like rubber pads under each leg. You can also put a no-slip mattress pad between the mattresses and the bed frame.
Benefits of Using Split King Mattress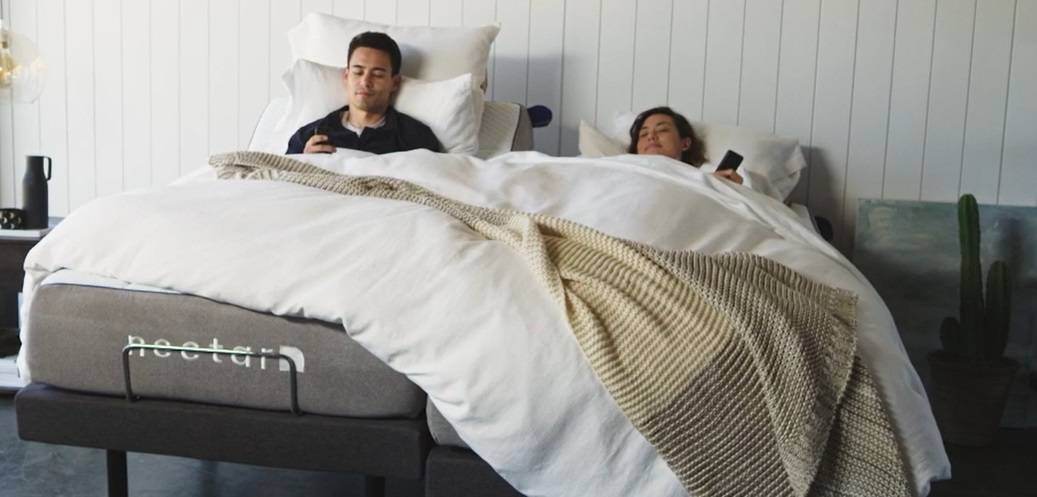 Different Sleep Preferences: While sharing the same bed, you & your partner can sleep on separate mattresses which is possible only with Split King Mattress. This allows accommodating the different sleep preferences of both of you.
Benefits of Getting Motion Isolation: If you find yourself a light sleeper who wakes up even by the slightest sound or movement of your partner then the Split King Mattress will provide comfort in this regard. A split king mattress cuts the motion transfer.
High-Class Sleep Experience: With the standard mattress and bed frames, you cannot get versatility & comfort which you can get through adjustable beds and the split king mattresses have them.
Easy to Move & Handle: A saggy feeling mattress means your mattress needs care. You can handle this issue by rotating the mattresses quite often or you may need to put the mattresses in sun heat/light. These twin mattresses enable you to handle them effectively. But Also, these mattresses are easy to carry or transport in comparison to standard king-size mattresses.
Dedicated Space for Your Comfortable Sleep: Say, you have an issue of sleep apnea or you have late-night working habits or find yourself comfortable reading books till late (it is not recommended to stay awake till late at nights), these mattresses provide you with your own space without disturbing your partner.
Get Comfortable Sleep by Using Different Bed Frames: You can get two different customized bed frames; one is an adjustable bed frame & the other one is a standard bed frame based on your requirements of sleep.
Size of Comforters & Bed Sheets
Uniformity is the key to everything and a king-size comforter can fulfill this requirement. Using the same space with different size options can be an added advantage. Two twin XL comforters or one king-size comforter can be used. And this is based on your preferences.
By using a separate twin XL comforter, there is ease of using it. Your partner may need a warm or heavy one or you may need a lighter comforter.
We recommend using two twin XL fitted sheets rather than using one standard king fitted sheet. It also enables you to select a different kind of material for your bedsheets. Again, if you & your partner have the same preferences, then you can use a standard sheet.
Bottom Line
A comfortable sleep refreshes our body and mind and provides good health.
A split king mattress is the most comfortable mattress which gives you far more control and is the luxurious mattress you can buy. This will allow you & your partner to sleep in your ideal comfort zones. You should pick mattresses from good, reputed brands and with good customer reviews.
A split king mattress is a far better choice if both of you want to upgrade your sleep experience.