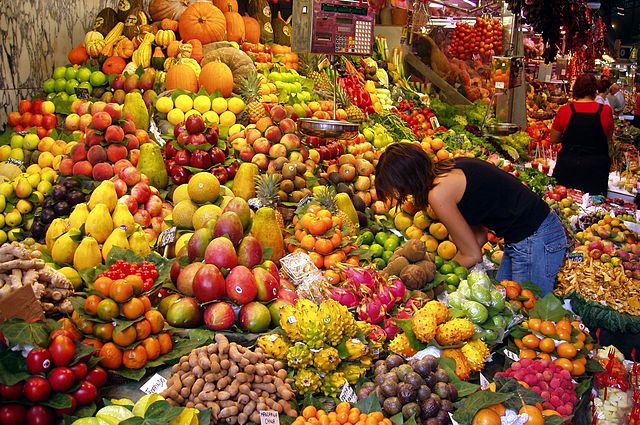 A healthy and colorful diet is suggested by every dietician and a physician. A healthy diet certainly does not include specific but rather a wide range of nutritious foods. A body needs an appropriate amount of nutrients to help your body grow healthier and if taken too much or too low, it can lead to health problems. A balanced diet will only provide you with health benefits but will also make you feel and look better.
Have you ever wondered why the fruits and vegetables you've been eating have a particular color? There is a reason behind it. They have some surprising benefits hidden inside them and for sure when you will know them, you will aim to make your diet even more colorful.
Following are the colors of the fruits and vegetables with the detail of their health benefits that will leave you quite surprising.
Red Foods
Due to the fact that red fruits and vegetables contain nutrients such as vitamin A, vitamin C, lycopene, fiber, hesperidin, ellagic acid, anthocyanin and guercetin, red fruits are a good source for providing health benefits. The phytochemicals in the red food group helps to keep your heart healthier, improves urinary tract health and is also good for health.
Fruits ranging from strawberries, cherries, apples, watermelons, tomatoes and vegetables including red onions, red cabbage and peppers will help in
Reducing the risk of tumor growth, prostate, lung and cervical cancer.
Protecting your body from heart disease and arthritis.
Maintaining LDL cholesterol and improving gastrointestinal health.
White Foods
What makes white foods differ from other colored groups is that every food differ in properties and benefits. Including white foods mushrooms, garlics, onions, potatoes, cauliflower or white beans in your diet will help you maintain your cholesterol levels and blood pressure, reduce risks of cancers and keep your heart healthier. One of the most important benefit of including white foods in your diet is that it increases immunity. White food such as onions and shallots have anthoxanthins – quercetin which help you prevent from allergies such as hay fever. Above all, it also lowers the risk of heart diseases. Allicin, an antioxidant present in garlic helps in maintaining blood pressure levels.
Green Foods
The green fruits such as avocados, grapes, pears, kiwi and green apples and vegetables including peas, broccoli, spinach, green peppers and asparagus contain various antioxidants, vitamins and minerals. The nutrients like vitamin C, calcium, fiber, chlorophyll and many others help lower risk of cancers, improves vision and make bones and teeth stronger. Even the vitamin K present in it helps to clot the blood.
Yellow Foods
Just like every color, yellow foods are also packed with full of vitamins and nutritional benefits. Fruits and vegetables such as mangoes, bananas, grapefruits, pineapples, lemons and sweet corns contain abundant amount of carotenoids. They have antioxidants that are actually helpful for protecting arterial lines from damages, they are also beneficial for protecting vision. A wide range of diseases including cancer and heart disease can be prevented if yellow fruits and vegetables are added in your diet. Rich in beta-carotene, yellow foods are also good to keep your skin, bones and teeth healthy and strong. Yellow foods being rich in vitamin C also help in preventing allergies and inflammation.
Orange Foods
Oranges, apricots, peaches, cantaloupe, papayas, pumpkins and all such orange foods have many health benefits and including them in your diet will help keep your eyes and skin healthy. Vitamin B6 present in orange foods makes our immune system strong as it plays a great role in protein metabolism and growth of blood cells. Fruits such as raw carrots due to its levels of alpha and beta carotene help prevent oxygen related damages in our body and maintains vision. One of the most important benefit of adding orange foods in your diet is that they also have retinoic acid which has proved to be very helpful to act against early stages of breast cancer.
Blue/Purple Foods
Fruits such as blackberries, blueberries, plums, grapes, raisins, prunes and vegetables such as cabbage, asparagus and eggplant and all blue and purple foods help to keep your bones healthy and strong. They have anthocyanin with anti-aging and antioxidants properties. They help in increasing blood circulation and also improve memory, lower the risk of certain cancers and also helps to maintain urinary-tract. They also help the body to absorb calcium, reduce tumor growth and helps prevent inflammation.
Author bio:
Zoha Ali is a passionate blogger who loves to write on healthcare and medical related topics.