Edible CBD products may just be the perfect fix for you if you're a sleep-deprived individual. It can also provide relief from pain and anxiety, promote a calm sense of well-being, and act as a mood stabilizer. Many athletes are finally swapping their post-workout ibuprofen for edible CBD products, which is a good thing as ibuprofen aren't side effect free.
These days, you can find edible CBD products everywhere from hemp CBD protein bar, hemp sports bar to CBD recovery protein as science continues to back up the CBD industry with overwhelming evidence, it's safe to say that CBD is here to stay.
However, the benefits of edible CBD may vary from person to person. So don't compare the way your body respond to it with other people as it can produce different results depending on age, gender, etc. Some athletes will ask, "will CBD show on a drug test?". That's complicated though. Most times, drug testers are looking for THC. However, full-spectrum CBD products made from hemp buds may contain traces of THC. So, be cautious if you think you may be tested. If you are craving to try this amazing edible CBD products yourself, check out these five list mentioned below for a start.
Hemp CBD Sports Bar
This sports bar is formulated with hemp CBD and designed to improve workout performance through advanced phytocannabinoid nutrition.
The sports bar is available in two variants: Lemon cream crisp bar, this includes 15miligrams of hemp CBD from PlusCBD oil total plant complex: and chocolate cherry almond bar, which also includes 15miligrams of hemp CBD from PlusCBD gold formula extract.
This sports bar is made from agricultural hemp, delivering full-spectrum CBD, plant sterols, naturally occurring vitamin E, fatty acid, and terpenes. This sports bar also contains raw undiluted honey which enhances the overall athletic performance by allowing the body to recover faster after a strenuous workout while promoting stamina and endurance levels. 
Hemp CBD Protein Bar
The hemp CBD protein bar uses full-spectrum CBD and other organic ingredients such as almond butter, hemp seeds, flaxseeds, and oat flour. It's of two flavors: the chocolate flavor and the lemon crisp flavor. Full-sized hemp CBD protein bar contains 15mg of CBD, some companies produces the mini bars which is just 4mg.
Its hemp seed content is known to be the most complete nutritional superfood, with an equal amount of omega 6 and 3 fatty acids, vitamin E, iron, and all essential amino acids. The protein content in this bar aids the growth of healthy bones and cartilage.
Evo Hemp Bars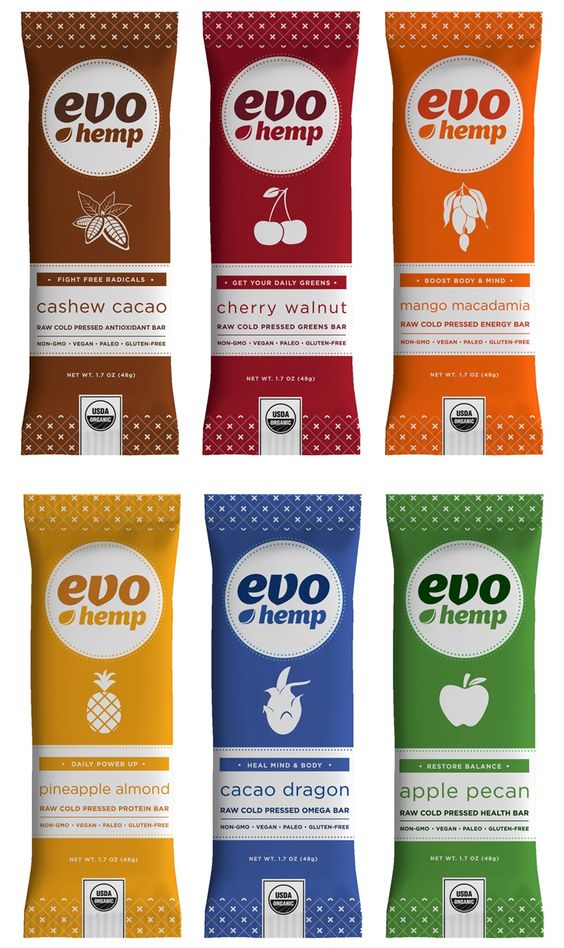 Currently, the Evo hemp bar has three flavors: brownie chip, chocolate chip cookie, and mocha chips. Each flavor contains 12g of protein from cashew butter and hemp seeds and 10mg of CBD. One amazing feature of Evo hemp bar is that its hemp source is from Pine Reservation, where it is grown sustainably by Americans in South Dakota.
The antibacterial and antiviral properties of Evo hemp bars promote a healthy immune system. Additionally, it is a medium-chain fatty acid that allows your body to burn fat and not store them.
MoonMan's Mistress CBD Cookies
The MoonMan's cookies contain CBD (nine milligrams) and a small dose of THC (one milligram). They are made from ingredients such as coconut oil, almond flour, and maple syrup; and they're a far healthier food than junk food.
The key to a healthy mind and body is balanced fats. Not only do these cookies contain needed fatty acids it also contains the super rare GLA omega 3 fatty acids in its perfect proportion.
CBD Recovery Protein Powder
Talk about a tasty protein powder! CBD recovery protein powder immediately comes to mind. It is a tasty protein powder available in chocolate flavors and vanilla flavors. The CBD recovery protein powder is made from ingredients such as raw cacao, vanilla beans, and organic whey protein. Both flavors have 25mg of CBD per serving. You can mix with water, though it's equally perfect with milk or you can add it to your smoothie.