We sleep in different positions because it gives us the feeling of comfort while sleeping. Every person has a different way of sleeping. A person's sleeping position has its benefits.
Sleep is one of the positive things that we do in our daily lives. A cozy sleep with your partner is one of the best experiences one can feel and it also strengthens relationships. But do you know that there is not only one position for couples? Every couple has their own and different position. Some couples love sleeping in a spooning position while some like taking naps in a face-to-face position. There are several positions for the couples that give them the feel of happiness and comfort while sleeping with each other.
There are so many differences between the individual sleeping position and couples sleeping positions. An individual can sleep in any way he wants. But couples need to think about their partner while sleeping. An individual can sleep on their back, belly, fetal position, and also on their side. These are some of the most lovable sleeping positions of single people when they sleep alone on the bed. Any person is a king on the bed when they sleep alone on it. However, on the other hand, the couples have to make adjustments while sleeping with their partner. They have to sleep according to the availability of space on the bed. But many positions will give you relaxation in the arms of your partner. Here are some of the most popular sleeping positions for couples. Check out:
Spooning Position: The spooning position is the way of cuddling your partner from behind. According to psychologists, this position gives you the feeling of protectiveness, makes couples close to each other, strengthens the bond and trust with each other.
Loose Spoon Position: This is the same as the spooning position but with some inches of distance in between the partners. This kind of position does not reflect the feel of sex. The loose spooning reflects trust and closeness with each other.
Nuzzle Position:This is the position where one partner sleeps on their back while the other rests on their arm. This makes the partner self-assured and protected. The partner lying on the arms also put their legs and hands on them to feel more close.
Face to Face Position: Sleeping by facing each other indicates that couples want to be intimate. Partners want to shower their love on each other when they look at each other in this position. This is one of the sensitive positions for the couples especially when the heads of both the partners are touching each other.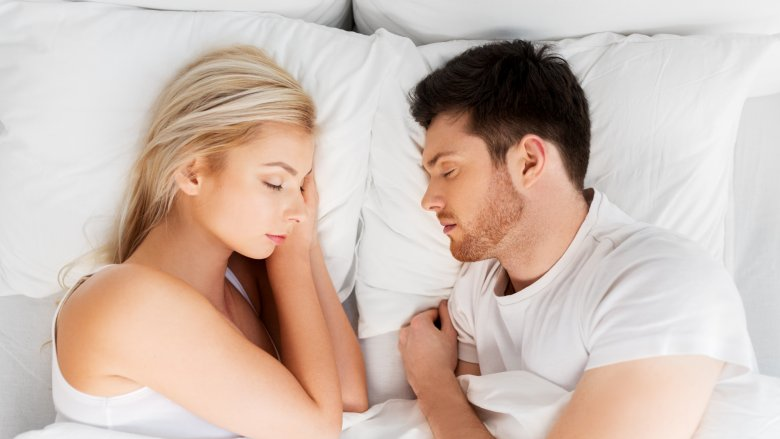 Face Away Position: The couples with matured relationships mostly sleep in this position. This shows their level of trust in each other. This is one way of feeling your level of comfort while sleeping. It simply shows that people need personal space. However, some couples sleep in such a position whenever their partner is suffering from acidity, snores, etc.
Stomach Position: The stomach position is one of the most comfortable positions which everyone likes. But the fact is this is not a good place to sleep. If your partner is addicted to sleeping in this position then you must talk to him/her. The stomach sleeping position is a sign of anxiety, depression, vulnerability, and lack of control. Try to avoid sleeping in such a position for long hours.
Leg Hug Position: Putting your legs intertwined with each other is also a good position to sleep. This is also a position that brings couples close to each other.
These are some of the best positions for couples that everyone can try while sleeping with their partner. The sleeping position among couples plays a vital role in having a good and quality sleep.
But there are a few things that can make your sleep uncomfortable even if you have chosen the best sleeping position. The room temperature, mattress, pillows, and last but not least a correct blanket also affects the quality of your sleep. As we all know, a quality mattress goes a long way when it comes to sleep. It is always recommended to explore affordable mattresses online to improve your sleeping quality. 
A blanket has the potential to disturb your sleep if you have selected the wrong one. It is very important to select the right blanket for yourself so that you don't get into trouble while sleeping with your partner. Today there are weighted blankets available that provide you a cozy feel. These blankets are weighted with glass beads and Polly pellets which are sewn as pockets into the fabric.
These weighted blankets have been said to be the best and coziest thing of use for couples. One thing that one must consider before making any purchase is to always buy a blanket that is according to the size of your mattress. Do not buy the big one as it will irritate you while sleeping. Here are some additional benefits for the weighted blanket;
Benefits of the Right Size Blanket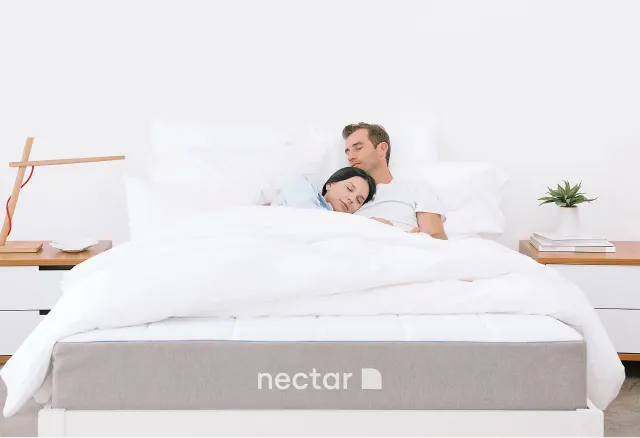 It is very important to select the right weight of the blanket. And to get the right weight, make sure that the blanket is 10 percent of your body weight. To know about it in a more explained way, you must have a look at some important facts and benefits of using the right size blanket
Helps in making you sleep better by eliminating stress and anxiety.

The quality of sleep improves as the weighted blanket stimulates the dopamine hormones which makes you feel good and happy.

Stimulates the Melatonin hormone which is known for promoting sleep by regulating the sleeping cycle.

Weighted blankets reduce the symptoms of restless leg syndrome.

Lowers the risk of having sudden panic attacks.

Last but not the least, a good sleep makes your mood refreshing and happy.
The Bottom Line
According to research and study, couples come more close to each other when they take a lovable and cozy position while sleeping.