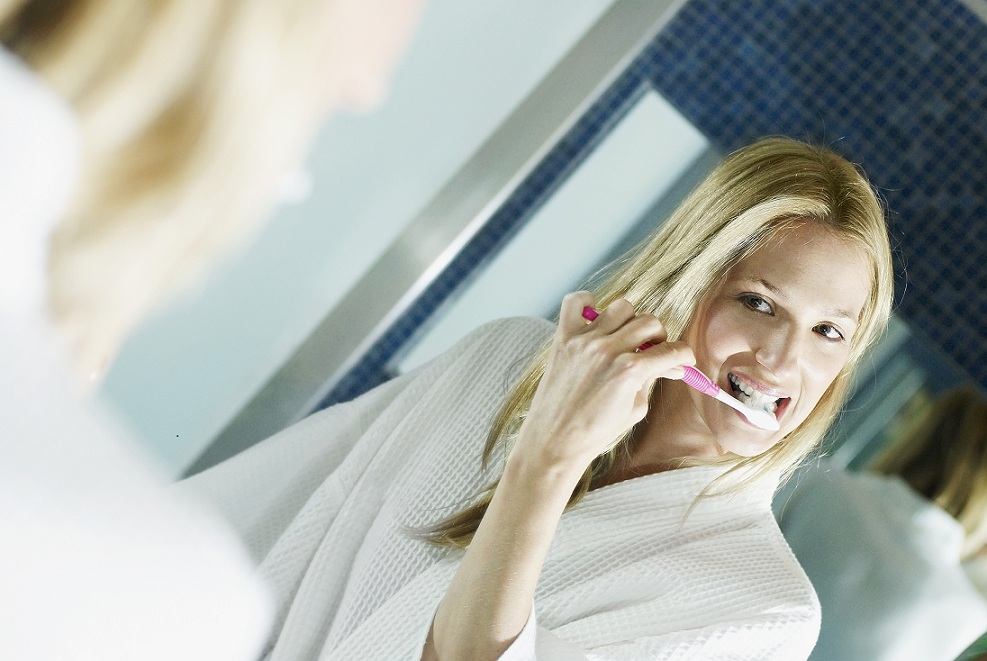 How important is your oral health to you? We often take for granted how important it is to look after our smile, not only does it make us look more attractive but it is beneficial to our health.
Having a healthy set of teeth can make us look and feel much better inside and out.  Teeth whitening and straightening treatments are becoming more popular, boosting user's confidence and promoting dental treatment to the next generation.
If you are having to wonder when the last time you visited the dentist was, that could be a worrying sign. On average, you should be seeing a dentist twice a year. Depending on your oral health it may vary as some can patients may need fewer visits and others may need more frequent visits. Before your next trip here are some options that can improve your oral health.
Brush Your Teeth Daily
Celebrities are becoming aware of their power and influence on social media and they are being paid to promote the latest oral healthcare trends. Home kit teeth whitening has become more mainstream and lots of us are buying into the trend.
It may be trendy to follow in celebrity's footsteps but shouldn't we really be starting with the basics? Shocking figures from a UK survey have shown that half of the respondents did not brush their teeth every day – and on average that accounts for 24 million people in Britain alone.
Daily brushing and cleaning are vital as it removes plaque. A build-up of plaque happens when sugar and bits of food are left behind. This caused you teeth to decay and in worst cases, gum disease may arise.
Change Your Toothbrush
The main mistake we can make for basic oral health is not changing our toothbrushes regularly, as it is one of the most common mistakes in oral healthcare. Giving your mouth a good clean at the beginning and start of the day can wear away the bristles of your toothbrush making it less effective and sanitary.
To avoid this, change your toothbrush when the bristles become misshapen or less flexible as this will not give your mouth an effective clean. Colgate suggest that toothbrushes should be swapped every three to four months.
Flossing And Mouthwash Tips
Enhance the effectiveness of your clean with mouthwash and flossing. If you are using a mouthwash that contains fluoride, it will help prevent a build-up of tooth decay. It is recommended not to use mouthwash – even a fluoride one – straight after brushing your teeth as it can wash away the concentrated fluoride in the toothpaste.  Glasgow Smile Clinic at The Berkeley Clinic recommends that you floss before brushing your teeth. To ensure that your whole mouth is clean also use a mouthwash as this will target your teeth, gums, and tongue.
Avoid Home Kit Teeth Whitening
Discolouration of your teeth is natural. The older you get the more your teeth will change and they will start to go a structural change in dentine (bone-like tissue underneath surface tooth enamel).
This means it may not be your fault that your teeth are starting to discolour as a lower blood supply goes to your teeth during this process, which may mean that they will appear more yellow.
Dental specialists do not recommend home kits as you could be overusing teeth whitening products and damaging the surface of your teeth. Many of these kits strip away the protective layer which is on top of your teeth.

The Safe Option: Professional Teeth Whitening

On a more positive note, getting your teeth professionally whitened can be extremely beneficial to your mouth and confidence. Teeth whitening's appeal is growing, and it is quickly becoming the most popular form of cosmetic dentistry.
By brightening up your smile you will feel the benefits that come along with teeth whitening. Many choose to have their teeth whitened before important events like job interviews, a wedding or an occasion and not only will you have a better-looking smile for this event but you will leave the dentist's chair feeling much more self-confident.
Professional teeth whitening eliminates persistent stains and enhances your smile, leaving you less insecure about your coloured teeth.
Don't Miss Your Dental Check-ups

72% of the UK population are making regularly scheduled appointments. These figures could be a lot worse, however for the percentage who are no attending their dental clinic, neglecting your teeth can be a dangerous move.
If you are worried about your oral health you should be attending your dentist for regular check-ups.  If you are confident about your teeth's appearance and health it is also recommended that you are attending your yearly check-up to ensure they are in prime condition.
Teeth Straightening And Adult Braces
The demand for clear braces has seen an incline of 177%! Could this be due to the popularity of teeth straightening in both genders? It is now common for male and female celebrities to invest in adult braces flaunting – so why shouldn't you?
Nowadays with Invisalign Scotland, clear braces are not only accessible but you could have the smile you have always wanted in around six to nine months!
Invisalign braces are not only comfortable but removable. This cosmetic treatment will make you feel much more self-assured about your teeth's appearance and they can be taken out while eating or for a business meeting.
Smile More With Better Teeth
A great smile isn't only good for our health, but our psyche too. With most aspects of healthcare, there is no quick fix and you must be committed to really looking after your teeth properly if you want to feel happier and healthier.
Choose the sensible option, attend a professional dentist who will advise you on a longer term solution to your oral health problems. Risking your oral health care on short-term, cheap home kit solutions could damage your smile, which will cost you more money in the long run. A whiter, brighter smile will make you feel more confident and healthier!