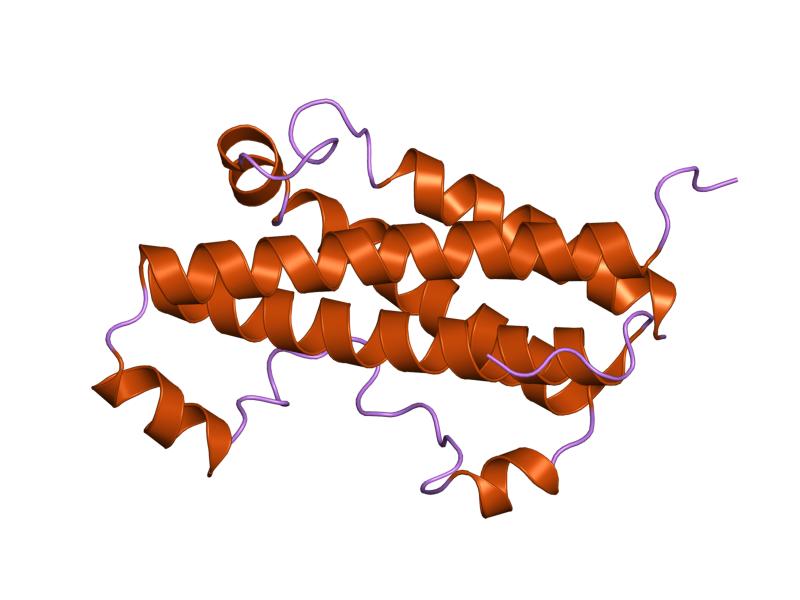 The human growth hormone (HGH) is one of the most important molecules produced naturally by the body.  Created in the anterior pituitary gland, this peptide hormone is responsible for powering childhood growth and for maintaining the reproduction and regeneration of the body's cells throughout a person's lifetime.
The secretion of HGH is primarily regulated by two hormones from the hypothalamus of the brain: the growth hormone-releasing hormone (GHRH or somatocrinin) and growth hormone inhibiting hormone (GHIH or somatostatin). These hormones stimulate the anterior pituitary gland, which then responds by synthesizing HGH.
Large amounts of HGH are released by the pituitary gland every several hours throughout the day. However, the secretion usually peaks during deep sleep, when about half of the body's daily HGH production occurs.
How does the human growth hormone affect the body?
As explained, HGH is essential for proper physical growth during childhood. The production of the hormone reaches its pinnacle during the growth surge that happens when a person enters the puberty stage.
But on top of promoting growth among children and adolescents, HGH also helps regulate many important biochemical processes in the body, including protein synthesis and fat lipolysis (fat breakdown), which is necessary for cell growth and regeneration, as well as increasing muscle mass and strength. HGH is also essential for bone mineralization, calcium retention, the development of internal organs, and gluconeogenesis (sugar production) in the liver. Additionally, HGH also plays an important role in stimulating the immune system and in maintaining the body's homeostasis.
Growth hormone deficiency in adults: causes and symptoms
Growth hormone deficiency can be caused by conditions or injuries that affect the pituitary gland. There are many pituitary gland problems known to science, including congenital disorders, congenital malformations, pituitary adenoma and other types of tumors, genetic mutations, autoinflammatory diseases, impaired blood supply in the pituitary gland, and damage to the pituitary gland caused by medical procedures like radiation therapy, surgery, and chemotherapy.
Growth hormone deficiency can also be attributed to aging. As with many other hormones produced in the human body, human growth hormone levels are also expected to drop as a person ages. In fact, many of the symptoms that people associate with aging can be traced back to the decline in hormone levels in the body.
Diminishing human growth hormone levels can result in a number of symptoms. These include chronic fatigue, low energy levels, increase in the amount of body fat, decrease in muscle mass and strength, deterioration of memory, inability to concentrate, baldness in males, bone mass loss, osteoporosis, increase in levels of low-density lipoprotein (bad cholesterol), and cardiovascular diseases.
Dealing with low human growth hormone levels
There are a few lifestyle changes that you can observe to improve your HGH levels. The first one of these is getting enough sleep, since HGH secretion is at its highest during deep sleep. Ensure that you get between 7 to 8 hours of uninterrupted sleep every day to optimize your body's HGH production.
The second is eating a healthy, low-glycemic-index diet that helps keep insulin levels low. High insulin levels negatively affect HGH production, so focus instead on foods that are high in lean protein, fibers, and healthy fats.
Finally, you should also exercise regularly in order to stimulate HGH secretion in your body. Studies have shown that anaerobic exercises—exercises that trigger lactate formation in the body and challenge the cardiovascular system in terms of delivering oxygen to the muscles—can help boost the production of HGH. Examples of anaerobic exercises include sprinting, weight training, and high-intensity interval training. A cornerstone characteristic of anaerobic exercises is that they can only be sustained for short spans of time, since muscles can't function for a long time without oxygen.
Aside from proper sleep, healthy diet, and regular exercise, physicians may also recommend medications, supplements, and bioidentical hormone replacement therapy in order to restore human growth hormone balance in your body.
Bioidentical human growth hormones, which are produced from naturally derived sources, can significantly improve a patient's health and quality of life by dealing with the negative effects of low HGH levels. Some of the benefits may include improvements in one's energy levels, mood, memory, concentration, and general sense of wellbeing. Physically visible benefits may include improvements in muscle tone, muscle mass, and skin health. Bioidentical HGH therapy can also help reduce unwanted body fat (especially in the abdominal area) as well decrease one's risk of osteoporosis and heart ailments.
To find out if bioidentical hormone replacement therapy is for you, consult your doctor today. Remember that tests may be conducted by your health provider so that proper hormone replacement therapy, nutrition, and exercise programs can be created specifically for your unique needs.