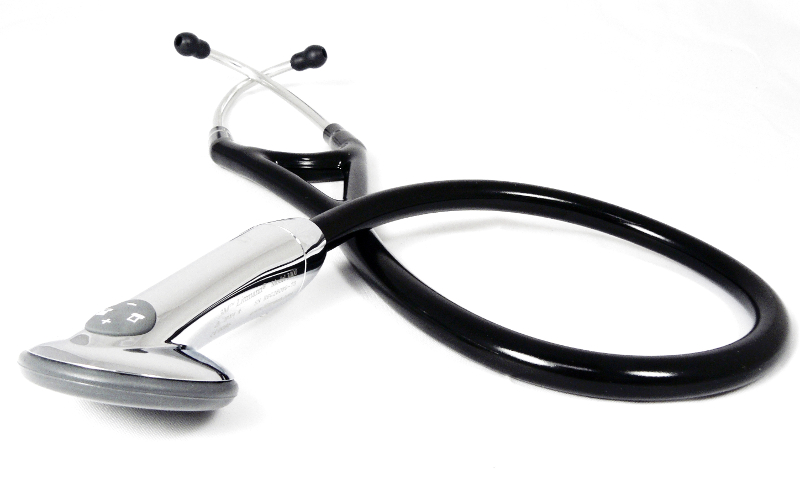 Using only a stethoscope is often a cheap and effective way for doctors to identify various health problems of their patients. To establish a diagnosis, auscultation of the signals coming from the lungs, bowels, or the beating heart is often times enough.
In other words, a skilled doctor can identify cases of bronchitis and fluid in the lungs; gastrointestinal problems, such as gastroenteritis and constipation; and heart conditions, such as arrhythmia, valvular issues, hyperdynamic circulation, ischaemic heart disease, and heart block. Any of these health problems can be identified simply by placing the stethoscope on different locations on the patient's back, abdomen, or chest; typically, the doctor will ask you to sit up, sit forward, or lay down at a 45° angle; he may also ask you to lie on the left side to listen to mitral murmurs, for example.
Anesthesiologists also use stethoscopes to monitor the vital signs of the patient during surgery or other medical interventions that require anesthesia.
Medical issues that auscultation can identify
In case your GP considers that further investigations are needed, you will be sent to a specialist doctor who uses a special stethoscope.
For example, a cardiologist will use a cardiac stethoscope that is better at amplifying both low and high frequency heart sounds so that he is able to detect even the slightest improper click. Lower frequency sounds, especially coming from the mitral valve, are more easily heard with the help of a stethoscope's bell, while higher frequencies are more readily detected when using the diaphragm of the stethoscope.
A mid-systolic click can be indicative of a mitral valve prolapse, while an early diastolic murmur can be a sign of aortic or pulmonary regurgitation. If the doctor hears a heart sound that is softer than it should be, then you may be dealing with calcification or with a serious case of mitral or aortic regurgitation. A more difficult sound to detect is that which resembles a galloping horse, and is a sign of heart failure when it occurs in people over 30 years of age. Though common, systolic murmurs in older patients usually point to cardiac disease.
The doctor will listen to the rate your heart beats and its rhythm to determine whether it functions normally or not; with the help of a stethoscope, he can also spot any defects in the anatomy of the organ. In case of children, it may be more difficult to identify and interpret problems, especially of the heart, given that up to 50% of children between 3 and 8 years old experience innocent heart murmurs. An innocent systolic murmur may also be present in pregnant women.
In the case of lungs, if the doctor hears a cracking sound in your breathing, they may be filled with fluid. Similarly, if the stethoscope enables the doctor to hear a wheezing sound while you breathe, it may be a sign that you have constricted airways or that there may be a foreign body inside.