When it comes to maintaining a healthy immune system, there is no cure-all or simple fix. Rather, you have to choose healthy habits each and every day. Fortunately, boosting your immune health doesn't require medication or frequent visits to the doctor. By tweaking your diet and incorporating a few preventative practices to your daily routine, you can improve your immune system and fight off colds and other illnesses. 
Herbs, Fruits, Vegetables, and Other Foods 
The first step to building a strong and healthy immune system is forming healthy eating habits. Through fruits, vegetables, herbs, meat, and other foods, you should be able to get all the nutrients your body needs for energy and maintenance. 
 Take some time to consider your current habits and look into some alternatives you can add to your daily diet to improve your overall health. To focus on your immune health, consider adding the following to your snacks and meals: 
1. Turmeric–

Curcumin, a component of turmeric, has anti-inflammatory properties, and research shows that it may also

enhance antibody responses

. Eating curry is a great way to consume turmeric. 
2. Green Tea–

Green tea is packed with antioxidants and, more importantly, L-Theanine, the chemical that promotes germ-fighting T cell production. 
3. Garlic–

Studies show that garlic also

boosts immune function

and, in turn, can help preventcolds or fight them off. 
4. Citrus Fruits–

Citrus fruits are rich in vitamin C, which help the immune system in the production of white blood cells that protect the body from infections.





 

5. Ginger –

Another ingredient known for its anti-inflammation properties, ginger can help improve the symptoms of a sore throat and nausea.
6. Ashwagandha–

For centuries, ashwagandha has been a common medicinal remedy in India. In recent years, it's become extremely popular in the U.S. because more people have discovered

how ashwagandha helps immune function

. Primarily, ashwagandha helps reduce stress, a common contributor to weakened immunity. 
7. Natural Probiotics–

Probiotics, found naturally in yogurt, tempeh, kimchi, and kombucha are " good" bacteria that help keep the immune system balanced. 
8. Kale–

Kale, along with spinach and Swiss chard, are known to have high levels of vitamin C and

antioxidants

that strengthen the immune system. 
9. Blueberries–

Blueberries are another antioxidant-rich food perfect for helping build up and strengthen the immune system. 
Healthy Habits 
After adopting a healthy diet, the next thing you can do to improve your immune system is to maintain healthy lifestyle habits. For example, you can try the following: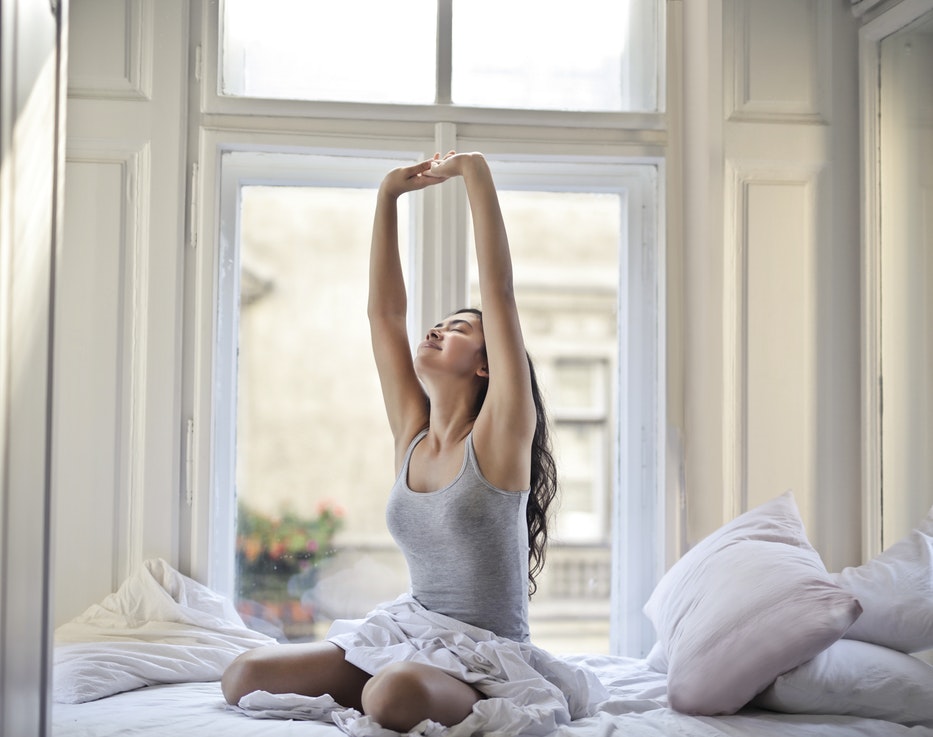 10. Maintain a Regular Sleep Schedule–

Sleep is incredibly important when it comes to your overall health. A consistent sleep cycle improves immune health by giving your body the proper amount of time to restore and heal cells within the system. 
11. Exercise Daily–

Getting a good workout not only aids in physical strength and weight maintenance, but by getting blood flowing, it can help increase your immune system health. 
12. Reduce Stress–

Stress can harm your health more than you know; it reduces the body's lymphocyte levels, white blood cells that help fight infection. 
13. Get Some Sun–

Getting some sun exposure is another excellent way to benefit your immune system health. By

promoting healthy oxygen levels

and getting vitamin D, your body can maintain the functions of the immune system. 
14. Practice Moderation–

In truth, some unhealthy foods and activities are hard to avoid altogether. For example, consuming a lot of sugar or drinking alcohol can damage your immune system. While you don't have to give either up completely, you should consume them in moderation. 
15. Stay Hydrated–

Drinking more water is a simple but effective way to keep your immune system in tip-top shape. By getting enough water, you can help your body flush out the toxins and bacteria that cause a lot of illnesses.  
Healthy Habits, Healthy Immune System
Through a combination of lifestyle and diet changes, you can take control of your immune health. When it comes to immunity, you don't want to wait until your sick to start taking care of your body. Instead, incorporate a combination of these tips and diet additives while you're healthy. That way, you can form healthy habits that will help prevent you from getting sick in the first place.