Traveling to different places around the globe is not just a luxury for a few; with so many destinations, many more are able to spend less and travel more. And if you're the adventurous type who loves the outdoors, you might have prepared a bucket list for your next adventure escapades.
Well, if you plan to travel to places that are bucket-list worthy and at the same time get you pumped up for more, then here's a list of the top 5 places that will test your fitness.
 Havasu Falls of Arizona
Havasu Falls is a 30-meter high waterfall located in Grand Canyon, Arizona, United States. Visitors go through a grueling 12-mile hike before reaching Havasu falls, which will absolutely test your hiking abilities.  With the excruciating heat of the sun, make sure to pack up sunscreen, water and reliable, sturdy hiking shoes because it can get super hot and tiring.
But the hike is just as rewarding; the long walk is truly worth it since the bluish-green, luscious, cascading waterfall is truly a sight to behold.
Remember to get permits beforehand if you plan to visit this place.
"Stairway to Heaven" of Hawaii
The Haiku stairs, which are popularly known as the "Stairway to Heaven," is one of the trending destinations on social media. Once you reach the top of the mountain ridges, you get to see a majestic view of the Kaneohe Bay.
A lot of adventure-seekers fancy the steep trail which consists of climbing the 3,922 stairs leading to the mountaintop. Although recently, visitors who will try to ascend the stairs get fined $1000 since it is a restricted area due to safety issues. But still, this does not scare a few who want to sneak in for some Instagram-worthy posts.
Chadar Frozen River Trek

Featured by a lot of travel magazines and channels, this Chadar Frozen River Trek is called one of the most beautiful, calming, and magnificent trips that adventure junkies can explore. Located in India, trekkers pass by a frozen river in Ladakh. The hike can take up to six to eight days, with a distance of 105 kilometers.
What makes the trek all the more challenging is the harsh weather conditions and the danger accompanied with walking across the frozen river. Temperatures can go as low as 20-35 degrees below zero.
According to Trek The Himalayas, trekkers need to prepare the following gear, namely:
Ice picks

Trekking boots

Winter clothes

Thermal inner-wear

Wind and waterproof jacket and pants

Waterproof gloves and woolen caps

Sunglasses

Trekking shoes and woolen socks

Head torch, flashlight

Tents

First-aid medical kits, toiletries, water bottle

Backpack with rain cover
As you can see, there are a lot of risks associated with the long hike and extreme weather conditions, so make sure that you are prepared for the adventure.
Huayna Picchu, Peru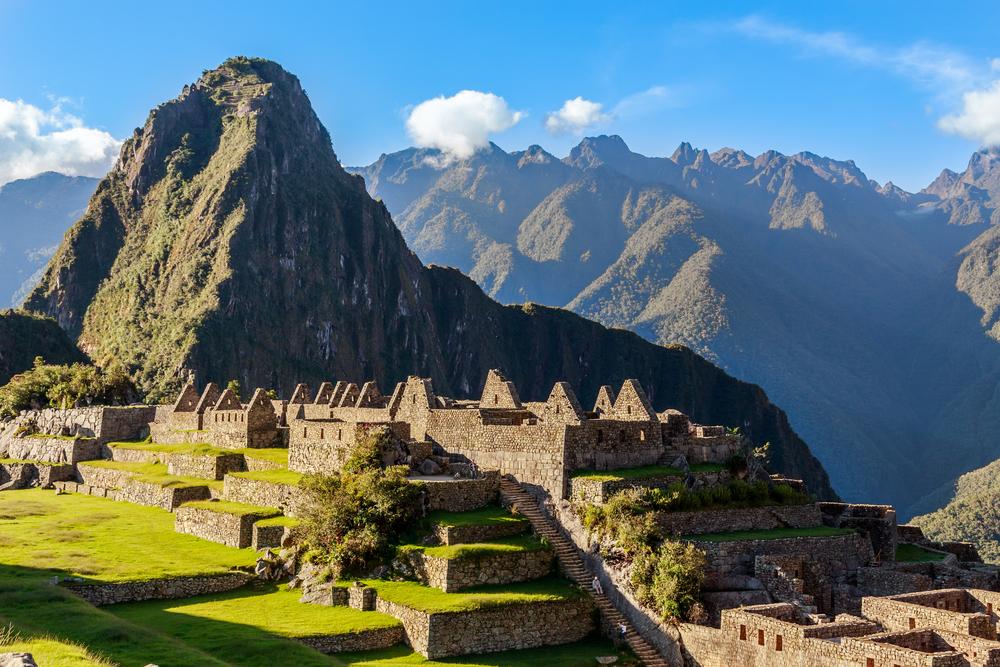 One of the best ways to get a great view of Macchu Pichu, or famously known as "The Lost City of Incas," is to climb the steep mountain of Huayna Picchu.
Huayna Picchu is about 8,000 feet above sea level. And before you can reach its peak,  there are two areas which are considered physically challenging, specifically the Huayna Picchu's tunnel and the so-called "Death Stairs."
Without any handrails, the "Death Stairs are seemingly vertical stairs, which are usually strenuous for visitors who easily experience vertigo. While you may think the tunnel is an option to escape the tough trail, well, think again. The narrow tunnel can be hard to pass with some visitors needing to crawl under cramped stone walls. During the rainy season, the cave can be dangerous, since the pathway is too narrow that it can be quickly filled with water.
The Great Wall of China

The iconic Great Wall of China, regarded as one of the Eight Wonders of the World, is a very famous tourist spot not only because of its history but also due to its wondrous, challenging, and steep trail.
If you do not know when to visit, chances are you can be at the site surrounded by a crowd of tourists, and it can get suffocating. Remember that locals also do come by during their holidays to enjoy the sceneries. There are times that weather condition can be too harsh for the hike. It can be either too hot during summer or too cold during the winter.
With that, The Great Wall of China should be on any adrenaline-junkie bucket list.
Conclusion
So, that's it!
These are just some of the places that will test your fitness. So, what are you waiting for? Pack up that trekking gear, book a plane ticket, travel to these famous destinations, and get ready for an adventure of a lifetime. If you've yet to get yourself your gear, perhaps a bivy sack might be up your alley. Consider getting one here so you'd be all set for your journey.