Many people are afraid to go to the dentist. In fact, few would say they actually look forward to their dental appointments, and if it's possible for them to avoid going, they would.
There are all sorts of reasons behind dental anxiety or fear, but perhaps the most common is an unforgettable negative experience that someone had as a young patient. Being in a dental office, with its pristine white walls, its strange and cold steel instruments, and all the whirring or drilling sounds, is often overwhelming to kids, and that unpleasant feeling can stay with them into adulthood.
According to HealthStatus.com, "It is not uncommon for adults to experience feelings of anxiety and apprehension over things and/or situations that are attached to traumatic and fearful experiences from childhood."
Overcoming Dental Fear
If you are among those who suffer from dental anxiety or fear, for sure, you dislike the mere idea of going to the dentist. It can be truly difficult to look past the fear, even if you know very well that dental checkups and treatments are good for you, not to mention necessary. But if you find your resolve one day to rise above the debilitating emotion once and for all, there are certainly ways to manage it.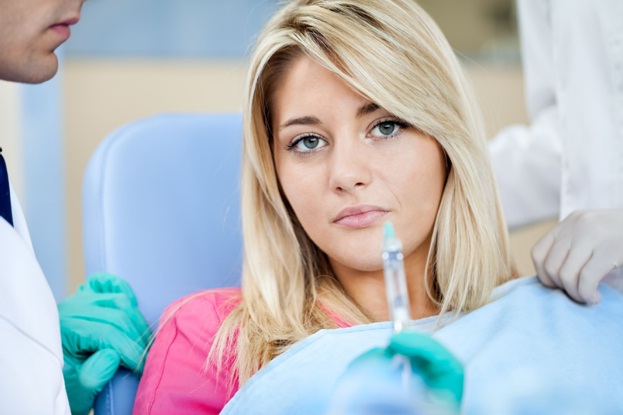 Take a look at the following six techniques you can try:
1.     Try  seeing a female dentist (if you haven't yet).
Sexist much? Not really.
Emma Seppala, Ph.D. Stanford University says: "We think of compassion in mostly feminized terms. It may be that, in women, we are conditioned to think of compassion as involving caring and nurturing but that, in men, it takes on a fiercer more protective appearance."
Essentially, women are not necessarily more compassionate than men. However, their demonstration of compassion is more apropos in a setting wherein childhood fears need to be managed. A seasoned and skilled female dentist can provide excellent comfort, assurance and expertise that can help calm a patient's misgivings.
2.     
Tell your dentist why you're afraid.
Your honesty will allow your dentist to come up with all sorts of creative solutions to help with your particular concerns If there are things that you do not like about certain treatments, your dentist can alter the situation for you. This may help tremendously in reducing your fear.
3.     
Try breathing exercises.
Deep breathing is powerful against anxiety and pain because it triggers the release of endorphins, or the happy hormones. Likewise, studies prove that breathing has the ability to reverse engineer one's mood. So, if you need to quiet down your dental fear – breathe.
4.     
Consider sedation dentistry.
When anxiety is getting the better of you, sleep through it. Sedation dentistry is recommended as a clever solution for people who simply cannot manage their fear and anxiety over dental treatments.
With an appropriate amount of sedative administered via IV, you will be conked out for the entire dental procedure. Along with this advantage, your dentist can perform the most complicated procedure knowing that it will not be painful on your part.
However, make sure that you have somebody with you for the treatment because the effects of the sedative may last longer than your dental procedure. This way, you will not have to get yourself home in a woozy state – someone will be there to take you safely home and help you get settled until the sedative wears off.
5.     
Get a massage before your trip to the dentist.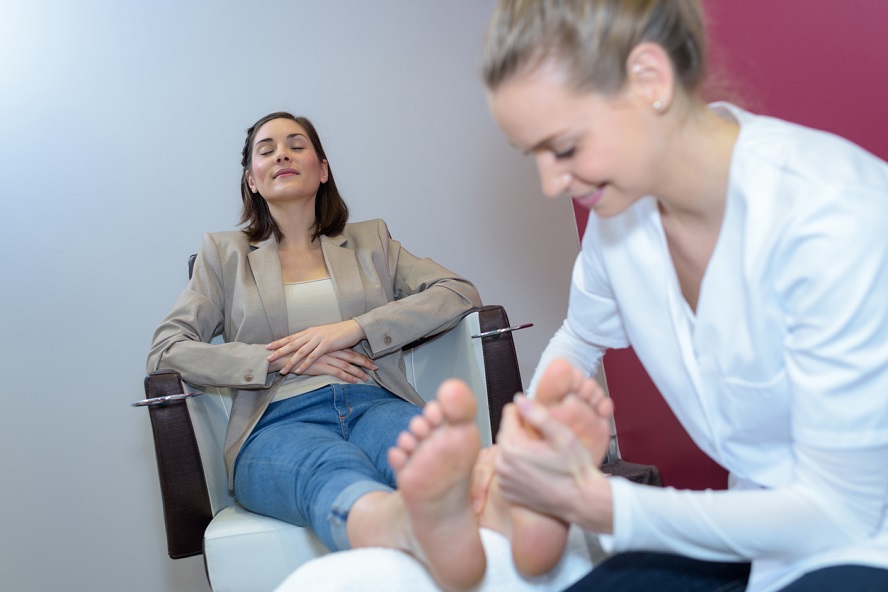 Therapists training at a renowned London massage college say that a good massage can calm the mind, improve the mood, and reduce stress levels. A calm state is a good starting point for a dental checkup.
If everything goes smoothly at the dentist's office, it is quite likely that you will remember the day being a rather pleasant experience. This single positive memory can help begin transforming your emotions toward the act of getting a dental examination.
6.     
Bring a good kind of distraction along.
You can bring a media player or your smartphone and play music, watch a movie, or listen to an audiobook while getting a dental treatment. These can distract you from all the noise that can make you jumpy, and perhaps even relax you throughout the procedure.
It is worth noting, however, that some dental offices even use a virtual reality distraction system. If you can find one that has this, your overall experience at the dentist's office may change and you may just be able to overcome your dental fear.
Final Words
There you have it – tips that have been proven helpful in addressing dental fear. Use one or use them all to help you through your next dentist appointment.
It is important to reiterate that dentists are fully committed to making dental appointments as pleasant as possible for their patients. Being aware that people can indeed be apprehensive or fearful of the dentist, they set out to demonstrate patience, compassion and understanding, and provide special care and attention.
So, if you have dental phobia, there is no need to worry because a good dentist is certainly more than ready to help you with it.
Author Bio
Dr. Yvette Porter is the founding dentist at Apple Dental in Newstead, Brisbane, which she started over 11 years ago, and continues to own and practice there today. She works with a team of female dentists who aim to provide gentle, and affordable dental care to patients in Brisbane. Dr. Porter is a member of the Australian Dental Association and is passionate about family, and children's dentistry, hoping to make their dental experience truly pleasant.