Did you know that for every inch your head moves forward in posture, it results in 10 pounds of increased pressure on the neck and upper back muscles?
When we neglect posture, we invite chronic pain – rounding your lower back while sitting on a soft, inviting sofa – a comfortable position that requires no effort from the back or abdominal muscles. Sleeping improperly, standing for hours – slouching forward – supporting weight on the knees, lifting poorly – all of this can lead to debilitating aches. 
Experts at Bodytonic Clinic believe that maintaining the spinal curves is very essential to preventing posture-related back pain. If the muscles aren't used to the right posture, they will lose condition via the 'use it or lose it' principle. 
The frequently over-repeated adage – 'Use it or lose it', still rings true concerning flexibility and strength. We often neglect these two areas of fitness due to which our muscles become – 'de-trained' and the outcome is that we struggle to maintain an upright posture. The primary areas of the body that suffer from this neglect are the chest, back, abdominal, and core muscles – which as a result become too tight, overstretched or too weak.
Correct posture may not get as much fanfare as eating healthy and sleeping on time; a straight spine is essential for overall health.
Here's how you can improve your posture through exercise. 
Chin Tuck
Image Source: Pinterest
The basic remedy to sitting all day is to get up frequently. Getting up frequently from your seat and doing The Chin Tuck exercise can help reverse forward-head posture by strengthening the neck muscles and reducing the weight on your spine.
Although this exercise can be done sitting, it is best to stand up so that you attain an upright posture. 
While looking straight ahead, start with your shoulders rolled down and back. Then, place two fingers on your chin and slightly tuck your chin while moving your head back. Hold for four seconds and then slowly release.
Do 15-20 repetitions. The more you tuck your chin, the better the results. 
Planks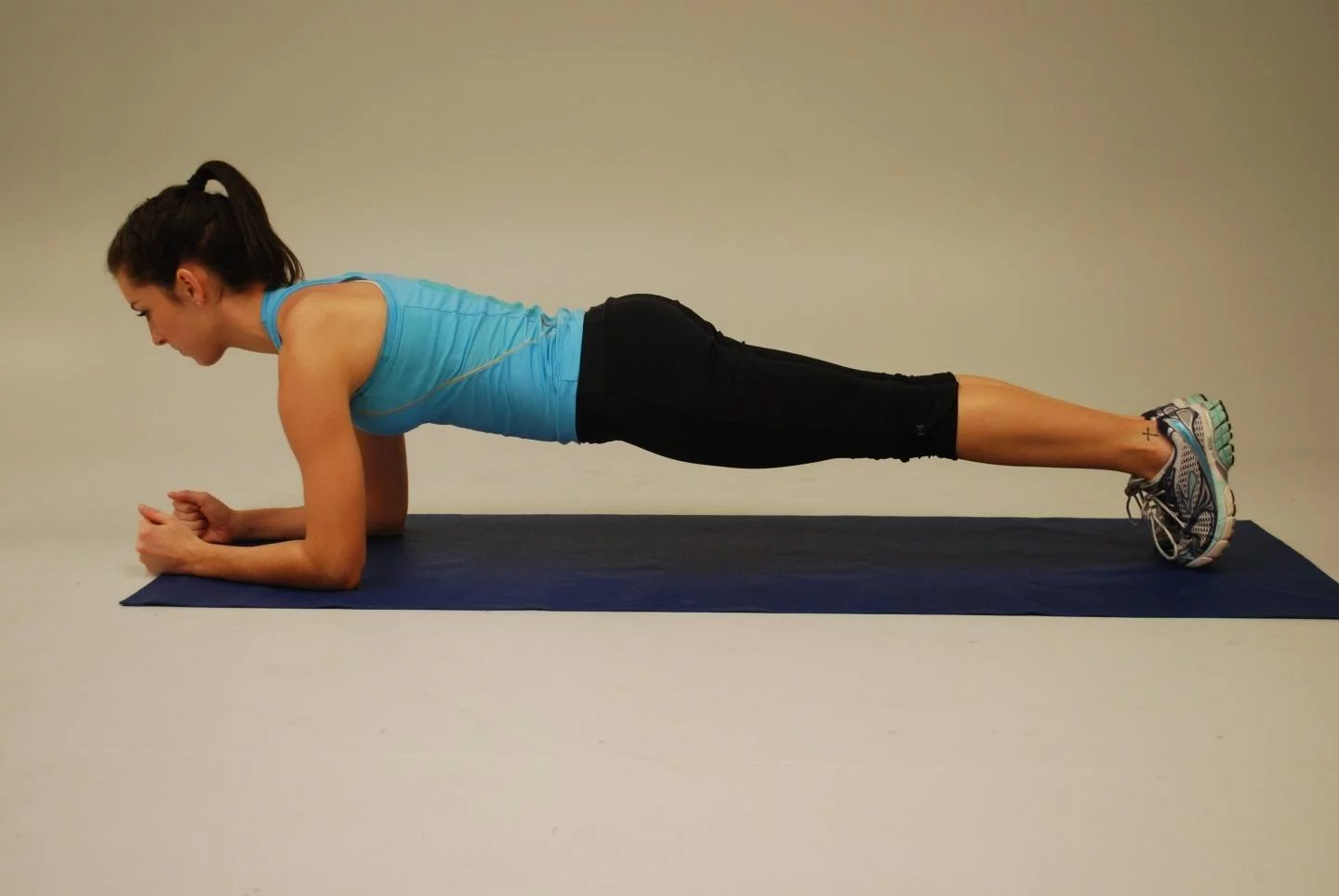 A strong core is the key to having a good posture. Practising the classic planks can light up a multitude of muscles all at once. When done correctly this fantastic core exercise strengthens several core muscles, while also strengthening the shoulder and the back. 
Lay face down on the floor with palms alongside the shoulder and feet kept together. Raise yourself applying your arm strength so that your arms are straight and you are balancing equally on your toes and hands. Alternatively, raise yourself just to your forearms and keep your spine straight. 
Hold the pose for thirty seconds, and as your strength grows – extend the time between one to two minutes. 
Wall Angel
The best way to combat bad posture is to make friends with the wall angel.
Rest your back against a flat wall with a slight bend in your knees. Make sure your spine, glutes and head are all against the wall. Slowly, bring your arms up with the elbows bent so that your upper arms are parallelly aligned to the floor. Then, squeeze your shoulder blades together (forming a 'W') and hold the pose for three seconds.
Next, straighten raise your arms and straighten up your elbows (forming a 'Y'). 
Repeat this exercise 15 times, starting at W, holding for three seconds and then forming a Y. You can do two or more sets.
Hip Flexor Stretch
This exercise not only improves your posture but also works your thighs and hips.
Start by kneeling onto your right knee with toes down, and then place your left foot flat on the floor. Next, place your hands on your left thigh and start pressing your hips forward until you feel a stretch in your hip flexors.
Contract your abdominal muscles and tilt your pelvis back while still keeping your chin parallel to the base.
Hold the pose for thirty seconds and then switch legs. 
Crunch with Twist
Image Source: Pinterest
If you are eager to fix your posture and work on your abs, you'll absolutely love this exercise.
Lie down, with your back against the floor, feet flat on the floor and knees bent. Next, place your hands behind your head and lift your shoulders off the floor, rotating your neck towards the right. 
Then, lower your shoulder back to the floor and stay in the position for two seconds. 
Repeat on the other side to complete one set. 
Final Words
You must not discontinue your postural exercises once your body has restored its correct alignment. Because the factors that resulted in you having a bad posture are still present: working on computers, relaxing on super comfortable sofas, etcetera.
Therefore, postural training is a lifelong commitment. However, once you have developed correct posture, it is easy to maintain.