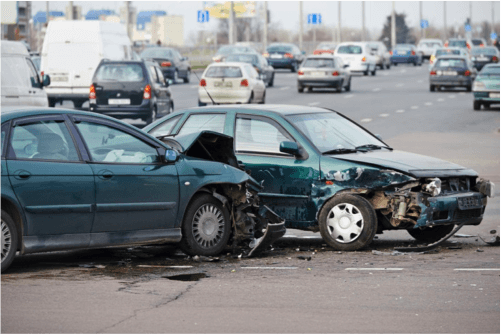 In this busy world, most of us take for granted the ability to drive from place to place each day, and to do so safely. Our minds tend to be on our day at work, our families, bills to pay, or our health, and not so much on the task at hand, driving. Sadly, more than 50,000 people are injured in a car accident each year in the United Kingdom. While you might think that this won't happen to you, it's entirely possible that it will at some stage during your life.
Apart from the physical injuries that can stem from a crash (common issues are whiplash, cuts and bruises, head trauma, and spinal injuries) many people also suffer from psychological problems such as anxiety and post-traumatic stress disorder. As a result, it's important to know how best to recover from an accident so that it doesn't control your life. In addition, after a car accident, you might decide to put in a personal injury claim to help cover the costs of treatment. If you need advice on how to claim road traffic accident compensation, talk to a personal injury lawyer that specialises in this area of the law. Read on for some top tips to take care of either yourself or loved ones who have been involved in a vehicular incident.
Assess Physical Issues
Immediately after a car accident, you need to assess if you are hurt. Check to see if you can move your body freely, and if you have any pain in any areas. Oftentimes people think they're fine, swap insurance information with other drivers involved in a car crash, talk to the police if needed, and then go straight home.
However, it can be better to seek medical attention as soon as possible, even if you think you're fine or aren't that hurt. Some injuries aren't obvious within the first minutes or hours (or sometimes even days) after an accident. For example, what you think is only a headache could actually be a concussion, or worse.
It's best to either go to the hospital, or see your primary physician or even chiropractor or physiotherapist to let them assess any aches and pains properly. Listen to the prescribed course of treatment and follow it — after all, things like internal bleeding or head trauma may just be waiting to surface when you least expect it.
For reasonably minor injuries, such as bruising, sprains and the like, ice applied to the sore area is a good first step. As well, apart from getting rest to help your body recover, make sure you also complete some light cardio exercise that stretches out your muscles a little, as this will help with the healing process. Staying hydrating is another important step. Ensure you drink plenty of water and/or herbal teas, and steer clear of any beverages that could dehydrate your body.
After a few days' rest, things like massages, light yoga, and physiotherapy or chiropractic/osteopathic treatments can also help the body to heal from muscular and spinal trauma. In addition, whether your injuries are minor or major, your mind-set will also have a big impact on how quickly you recover. Indeed, winning the mental battle can often tend to be one of the hardest parts of recovery.
Assess Psychological Trauma
It's natural to feel anxious, stressed or worried about having been in a car accident. In fact, many people avoid getting behind the wheel or even into a vehicle again for some time after they have been involved in a crash. While many of these types of feelings can ease after some time and rest, for many people the psychological trauma of an accident stays with them long after their body has healed.
Some of the most common symptoms that show a crash has taken an emotional toll on you include worrying a lot; being unable to sleep; finding it hard to concentrate or to have enough energy to get through the day; feeling irritable, upset, angry, helpless, out-of-control or confused; or even keeping very active as a distraction. Some people can also find themselves feeling very unsociable and withdrawing from friends, colleagues and family members.
If you notice some or all of these symptoms occurring, it's important that you get help to recover mentally and emotionally. Talking about your feelings and about the accident itself can make a positive difference to your frame of mind. You might like to talk to your loved ones, or seek help from a trained professional like a counsellor, psychiatrist or psychologist.
It also helps to get back to your pre-crash lifestyle as soon as you can. Go back to work, start socialising, and renew any interests that you enjoyed before the crash. As well, remember to take care of yourself. Eat healthily, get plenty of sleep, do some exercise, and avoid alcohol, drugs, cigarettes, excessive caffeine and any other toxins that can be harmful to the body, especially when it's in recovery mode.
If you find that anxiety and/or depressive signs don't ease after around three months, or if you find you have symptoms that are stopping you from leading your normal life, consider seeking medical advice to combat the negative effects. You may be suffering from an anxiety disorder, such as post-traumatic stress disorder (PTSD). If this is the case, a trained professional can suggest a course of treatment. This could include regular counselling, deep breathing or meditative exercises, cognitive behavioural therapy, or sometimes even medication.