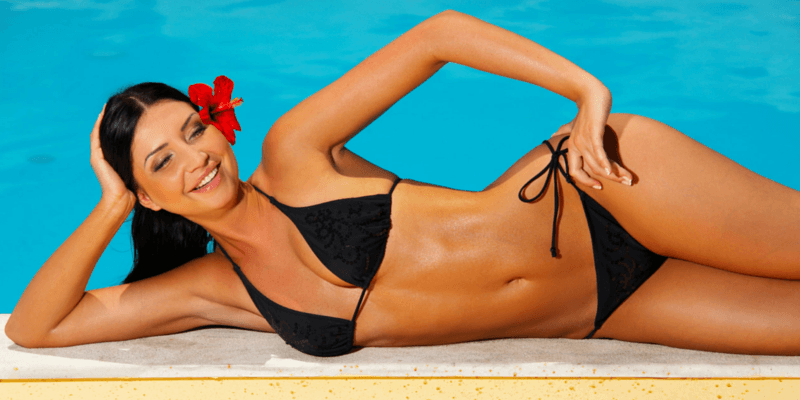 Kayla Itsines is a twenty-three year old personal trainer from Australia who has worked in the fitness industry since 2008. As a trainer who worked with mostly female clientele she noticed that almost all the women she was training had the same goal — to get a sexy bikini body!
If you've ever felt disappointed with the appearance of your inner thighs, craved toned arms, or just wanted a flat stomach and nice abs then Kayla Itsines workout is for you!
The Kayla Itsines Workout Review
You have a few different options when you decide what you'd like to purchase from Kayla Itsines. You can purchase the Kayla Itsines diet e-book or the Kayla Itsines workout e-book by themselves or you're can purchase them together at a discount as well.
Kayla Itsines Diet E-book (Yummy Foods Without The Extra Calories)
Kayla Itsines diet book is 90 pages of concisely written material presented to you in a simple, yet informative manner. The book includes a 14 day nutrition plan to ease you into the program before teaching you exactly how to identify what you should and shouldn't eat.
Kayla Itsines also gives you examples and points out why healthy doesn't have to mean gross (isn't that what every girl wants?).
You want to eat healthy, but the chocolate cake and Diet Coke are just so tempting… Not anymore. After you're done reading this book you'll be able to eat yummy meals that are healthy—and you won't have to feel guilty afterwards. You'll also learn how the foods you eat affect your metabolism and how you can eat differently to improve the speed of your metabolism.
Vegetarians can also fall asleep in peace tonight knowing a vegetarian meal plan is provided as part of Kayla Itsines Diet and Nutrition ebook which is available for $69.95 as a standalone product.
Kayla Itsines Workout Guide (Goodbye belly fat!)
Kayla Itsines workout program e-book includes 189 pages of workouts designed to shape your body into that perfect bikini body you've always wanted in as little time as possible. The best part about Kayla's 12 week workout plan is that it's incredibly straightforward and takes the "guess work" out of your fitness plan.
Even if you've never worked out before you'll have no problem understanding and performing the exercises Kayla instructs you to do in each workout. By following the workout plan Kayla offers you, you'll remove one of the biggest obstacles to working out– deciding what you're going to do each day!
Her program is also time-bound, because each workout is under thirty minutes (and who really has more time than that to exercise?). The Kayla Itsines Guide e-book can be bought for $69.95. Alternatively, you can profit by ordering Kayla's workout guide and diet book in a package, saving yourself about $19 in the process.
Is the Kayla Itsines Guide For Me?
The Kayla Itsines program has worked for thousands of women, but that being said it isn't for everyone. You obviously should consult your doctor before beginning any exercise program but there's also a couple other things you should consider before purchasing the Kayla Itsines guides.
Jim I Like You, But I Need to See My Friend "The Gym" Sometimes Too
Some of Kayla's workouts do require barbells, dumbbells, etc, so this may be a bit of a stumbling block if you don't currently own the necessary equipment and/or you do not want to sign up for a membership to a gym.
However, if you aren't a member of a gym ask yourself why not? Remember that a gym membership isn't just an extra expense; it's an investment in your health, self-esteem, and your bikini body!
The Bee's Knees, Not The Bad Knees
You should be aware prior to purchasing the Kayla Itsines program that there are lots of squats and jumping involved in her workouts. If you suffer from bad knees it's even more important that you consult with a doctor before beginning her program. Lots of pushups are also included in the workouts so that could be a concern as well if you suffer from joint issues in your shoulders.
It's Time to Get Your Bikini On!
There's no better investment than yourself. Kayla Itsines program may not be magic, but it has been designed by a woman who has helped thousands of other women just like you get the bodies they've always wanted.
Don't you deserve to finally feel comfortable and *gasp* even sexy in your bikini! Nothing works unless you do, but if you commit yourself to the Kayla Itsines workout you'll find yourself feeling better about your body in just a few weeks.