Whenever we hear the word "Laser" it always creates a sense of excitement in our minds. We automatically presume that anything which has the word laser associated with it must be superior to its counterparts because it sounds more complex and the general perception of consumers is that more complex the technique, better will be the results. Sadly, this is not true for cosmetic surgeries like hair transplant and I'll tell you why you should avoid any clinic which offers a Laser Hair Transplant surgery.
I have seen many people enquiring about laser hair transplant surgeries and they often seem enthralled by the procedure. Some people have even stated to me that if ever they get a hair transplant it'll be through lasers. Others keep enquiring about the costs involved in such a treatment and all of this seems very fancy to them. Little do they know that laser hair transplant treatments are no more recommended by medical professionals and have long been discredited as a viable treatment for hair restoration.
As a matter of fact, laser hair transplant has fallen out of use since the 1990s but some clinics still claim to offer this treatment and take advantage of uninformed patients. India, which was one of the first countries to discard the process, has moved onto much proven and tested techniques of hair transplant. Hair transplant clinics in Mumbai, Delhi, Bangalore and all major Indian cities provide FUE hair transplant treatment which is a far better option than laser hair transplant.
But why has the treatment been discredited?
First of all, people always seem to confuse laser hair transplant with 'low-level laser light therapy' which is actually an effective technique in which infrared light is used to enhance cell activity. It allows more nutrients to reach the hair follicles and accentuates hair growth. But using lasers for hair transplantation is a different ball game altogether.
Now, before telling you what's wrong with laser hair transplant, let me give you a brief about the most common technique of hair transplant i.e. FUE hair transplant. Follicular Unit Extraction or FUE is a surgical procedure in which follicular units are extracted from the back of the scalp, called the donor area, and transplanted to the recipient area by making tiny punctures or holes. It is a much easier and more convenient form of hair restoration. It is a completely scar-less procedure and also has very less recovery time.
Follicular Unit Extraction (FUE)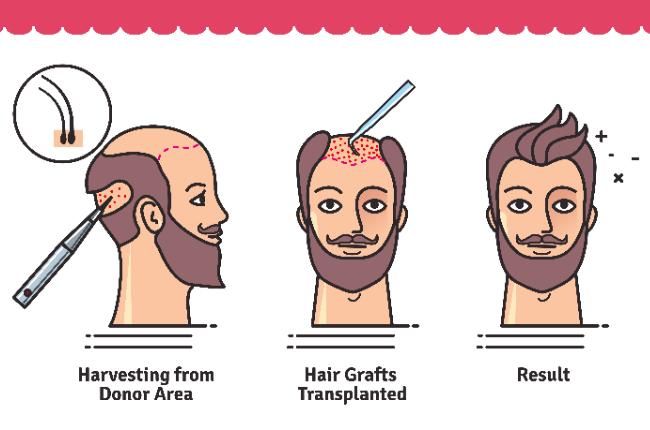 Similar to FUE, in laser hair transplant, holes are made in the scalp and follicular grafts are put in place in these holes. That sounds and looks quite easy and painless but since the holes are made using lasers the recipient site is created by vaporizing the skin tissue, and in the process, scorches the blood circulation to the planted grafts. This results in great amounts of crusting of the scalp and slow re-growth of hair which, in fact, is quite the opposite of what is expected after a hair transplant, a head full of healthy hair.
The takeaway is that in order to sustain growth and re-growth to occur efficiently there must be a good circulation of blood which, through lasers, is not possible as they tend to damage the tissue and restrict blood flow. So, if you still want to get a hair transplant you should get it done through more traditional methods like FUE or FUT treatment rather than going for something that has become obsolete. Any good doctor would advise you to rather go for any of the conventional forms of hair transplant treatment which are tried and tested methods and have proven to work.