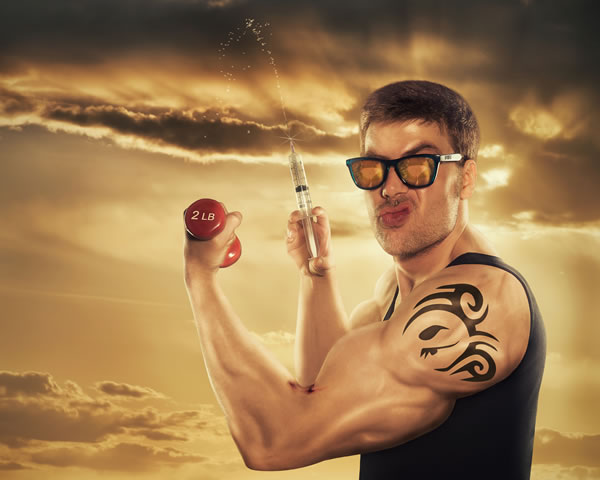 Testosterone is a naturally-occurring hormone that men and women secrete. However, poor nutrition can lead to rapidly diminished testosterone, especially in males. In contrast, you can naturally increase your testosterone level simply by getting regular exercise practicing a healthy diet. Taking certain vitamins and minerals can also help decrease your body's natural tendency to endure a steady decline in testosterone level.
1. Take Your B Vitamins
Sustaining healthy habits of vitamin intake will naturally improve your testosterone level. For example, B-complex vitamin supplements include testosterone-boosting nutrients, such as folic acid, vitamin B5, vitamin B6 and vitamin B12. These vitamins increase metabolism, which helps your body break down muscle-building substances like protein and fat.
2. Increase Zinc Intake
Making a conscious effort to increase your intake of the mineral zinc will increase your testosterone level. In addition, zinc also improves sperm production in men. Eating shellfish, such as prawns and oysters, can help you increase zinc intake. You can also naturally enhance your zinc intake simply by taking a daily supplement.
3. Fish Oil Supplements
Regular ingestion of a fish oil supplement that contains omega 3 fatty acids will help prevent testosterone from binding or clotting in the blood, which decreases natural secretion of the hormone. Fish oil restricts sex hormone-binding globulin from causing testosterone to bind, thus naturally increasing your body's level of testosterone secretion without utilizing synthetic substances.
4. Exercise Daily
Testosterone production is naturally enhanced from strenuous exercise, such as aerobic activity, which includes exercises like brisk walking, cycling, jogging and running. Other modes of exercise, like resistance training and weight training, also help boost testosterone production. The American College of Sports Medicine recommends getting 150 minutes of moderately intense exercise each week to increase normally body function.
5. Eliminate Processed Foods
Focus consumption efforts on foods that advance testosterone production, such as eggs, fish, avocados, apples, tomatoes, red peppers and green vegetables. Minimize your intake of processed foods and saturated fat. Foods rich in fat lead to low libido, which is a product of decreased testosterone. A decline in your testosterone level can ultimately result in loss of muscle mass and overall atrophy.
About Author:
Taylor is an expert in health and fitness. He helps motivate others to achieve the physique they want. He contributes to WorkoutZilla.com, a website designed to inform people about dieting and fitness supplements including the best testosterone booster supplements. Get motivated to workout at WorkoutZilla.com.