For some people, the difference between working out and not exercising comes down to one simple thing – convenience and ease of access. If you have to travel to the gym, it can be easy to put the trip off with excuses.
However, if you have a dedicated workout space set aside in your own home, you are far more likely to keep motivation high and kickstart a brand new exercise regime that you will actually stick to.
Of course, a home gym is an ideal answer to this, but many people have neither the money nor space available to make building a home gym a feasible solution. Then again, this doesn't mean that you should immediately give up on the dream. If a home gym isn't a practical choice for you, why not set aside a portion of your home to turn into a dedicated workout or exercise space instead?
Create a Plan
The first step is to assess how much space you have to spare for this, and what you plan on using your exercise area for. A larger space makes for a more varied workout, whereas a smaller space will require a little more careful planning in order to maximise its full potential. Similarly, if you are only interested in one specific type of workout, is there really any point in fitting the space with all the latest high-tech gym equipment only for it to sit there and rarely get used? Beginning the process with a clear plan in mind will be a big help further on down the line when you start to really get into the finer details of creating your workout area.
Design the Space
Next comes the fun part – designing the look of your brand new workout space. Depending on the size and shape of the available area, you should easily be able to customise the place according to your individual needs. The best home gyms blend functionality effortlessly with style – a modern approach is always a favourite.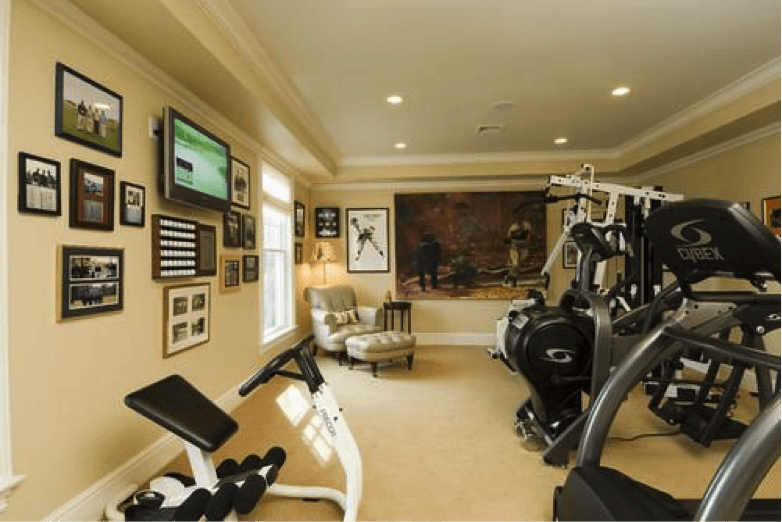 Although the specifics of the design will come down to personal preferences and your own tastes, there are a few things that you should keep in mind. Good lighting throughout the space is a must, as it will help you to see what you are doing and could help to avoid any accidents. Similarly, any cables or electrical wires from exercise machines, lights or stereos should be firmly tucked away out of harm's way. After all, the last thing that you want to do is trip over on a stray cable and injure yourself. It is also a sensible idea to install mirrors, full-length if possible, to ensure that you can see yourself while working out. This can help you to check that you are performing any exercises, stretches or warm-ups correctly to ward off the risk of injury.
Stay Safe
A safe, practical, and exercise-friendly floor surface is another essential requirement of any exercise space. Avoid hard floorings such as tiles or wood in favour of softer surfaces that will be much kinder if you should fall.
Artificial grass is the perfect material for this and is easily adaptable to both indoor and outdoor spaces. In addition, an indoor fake lawn will add an extra element of uniqueness to the look of your space, ensuring that it stays stylish as well as functional. Artificial lawn turf is made especially for sports and exercise; some varieties even come with a special cushioned under layer to ensure comfort and safety. This also makes them great surfaces for practising exercises such as yoga on.
Once your workout space is all ready to go, the only thing left to do is to kit it out with your choice of exercise equipment. Whether you are going for a full set of gym machinery or just sticking to your trusty weights and dumbbells, once everything is installed your home exercise space will be ready and good to go.